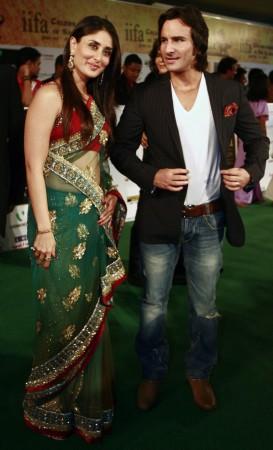 Actress Sharmila Tagore has once again spilled the beans about son Saif Ali Khan's impending nuptials to Kareena Kapoor, saying that the wedding will definitely take place in October, though there's now a change in venue.
"D-day is in October, sometime. I am not at a liberty to disclose the date. You'd have to ask Saif," she said on Tuesday according to The Times of India.
So unlike previous reports, the wedding is happening neither in London nor in Maldives. It's not going to be held at the Pataudi Palace either but in Delhi followed by an opulent reception in Mumbai, Mid-Day said.
The wedding will be a low-key affair with only close friends and family invited. "You'd be disappointed. No extravagant celebrations are planned. It would be a small family affair," she told the daily.
Tagore also clarified that the ongoing renovation at Pataudi Palace has nothing to do with the wedding. "After Nawab sahab's funeral, the garden and the area nearby at the Pataudi palace needed some work. We are getting it renovated and a wall has been built. But it has nothing to do with the wedding," she told Mid-Day.
Meanwhile, the to-be-bride Kareena Kapoor sternly asserted at a recent media event that she will reveal details of the wedding based on her wishes.
"You will know when I do," Kareena said in a recent interview with NDTV. "It's a Rajya Sabha debate. Everything I do, becomes a national issue, I could well be married you know. How would that make a difference? I could have been married three years ago and still done a Heroine."
With the couple remaining absolutely tight-lipped about it, fans will have to wait for October to tell if the wedding will indeed take place.