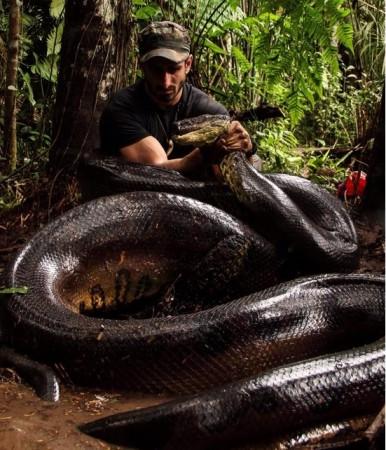 Viewers of Discovery channel, which aired the much talked-about show "Eaten Alive" on Saturday evening, have taken to Twitter to complain that Paul Rosolie and the TV channel had overstated when they said a man was going to be 'eaten alive' by an anaconda.
Only hours after the show aired, many members took to social media and complained that they wasted two hours of their time just to see a man being 'cuddled alive' rather than being eaten alive as was stated both in the title of the show as well in the promotional activities over the past months.
"Apparently #EatenAlive is short for '2 Hours of Your Life Eaten Alive.' Interesting but totally #OverHyped," tweeted an individual named Paul Steinbrueck.
"The World is a cruel place #EatenAlive is actually a man rolling around for 5 mins and giving up right when the snake was about to do work," said Dan Sullivan.
"What the hell! That snake didn't eat him alive. All they did was cuddle," was another complaint from a member.
"So #EatenAlive turned out to be moe like #CuddledAlive," joked Jarrid Wilson.
Rosolie, clad in a special carbon-fibre suit covered with pig's blood, had presented himself as prey to the snake in the Amazon. The incredible feat was watched by millions in Discovery channel at 9pm EST Saturday night but the only problem was that it wasn't as incredible was people thought it would be.
Much of the adventure included being grabbed by the huge snake and the man struggling with the anaconda.
"Misleading title: EatenAlive," said one individual with the profile @nascarcasm. "Appropriate title: #BroHuggedByABigSnake."
Both Rosolie and Discovery channel had refused to say how much Rosolie would be eaten by the beast, but they had insisted that it was not a hoax. Controversies had cast a dark shadow ahead of the 7 December show after Rosolie announced that the dangerous stunt was – quite ironically – staged in order to raise awareness about the giant beast and learn the significance of preserving the endangered Amazon River environment.
The man had colourfully described the moment he was eaten alive by the animal.
"The snake did not want to eat me, at first. She wasn't interested. But once I showed myself as a predator and she got spooked, then she defended herself," he told the Entertainment Weekly last week.
"She nailed me right in the face and the last thing I saw was her mouth wide open before everything went black. And then she wrapped me and I felt the suit cracking and my arms ripping out of the sockets. It was absolutely terrifying."
Same thing as #EatenAlive pic.twitter.com/XjAZXNpXaB

— Logan Burnett (@logan_burnett) December 8, 2014
The look On the staff who works for the @Discovery Channel right now #EatenAlive pic.twitter.com/k5eKS055mh — 3Sixty Music Group (@3SixtyMusic) December 8, 2014