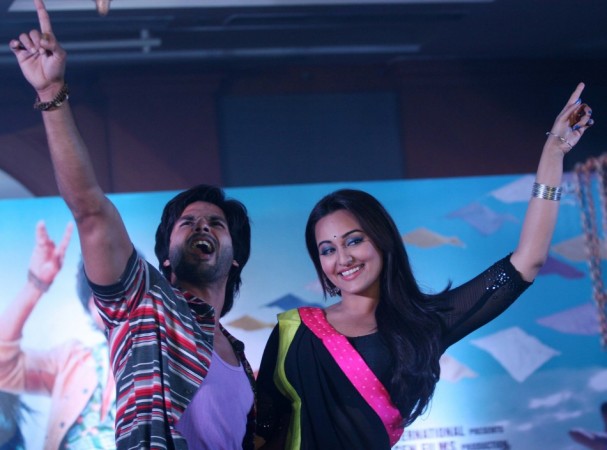 Ever since Sonakshi Sinha paired up with Shahid Kapoor in "R...Rajkumar", media has been abuzz with an alleged romantic liaison between the two.
The duo's candid camaraderie was out in the open during their appearance in Karan Johar's show "Koffee with Karan."Additionally, last month when Kapoor turned 31, Sinha wished the actor with a playful message on Twitter, fuelling the dating speculations.
While reports claimed that the actress had secretly attended the hunk's birthday bash in Goa, Sinha laughed away the rumours in a tweet and further posted an image implying that the rumours did not bother her.
However, the actress' svelte figure from her old curvaceous self has constantly grabbed limelight and gossip columnists have hinted that the "Kaminey" actor's presence in her life has undoubtedly led to a visible change. After all, Kapoor's impressive physique and groovy moves are undeniable.
While the actress has now shot down dating rumours in a recent interview, she affirmed that she is working out with Kapoor's trainer to attain the leaner physique.
"Frankly, people should stop making it awkward because there's nothing to it (the dating reports)," the "Lootera" actress told Hindustan Times. "I've been working out with the trainer since November. What has that got to do with Shahid? It's not like the trainer is bound to Shahid. I can work out with whoever I want to."
The actress further justified her rapid weight loss, "People have been writing about my weight. But it never really bothered me earlier because it didn't come from within. I'm doing it now (losing weight) for myself. I've been consistently working out since November. You can see the results now."
Sinha revealed that her new leaner self is helping her experiment with newer looks now.