Traditional practices to prevent evil were common in post-medieval Poland, including special burial for the dead, who were expected to come back and haunt the living.
However, a study by researchers of University of South Alabama, rubbished rumours that bodies buried with sickles across their neck at the Drawsko cemetery were vampires.
For many millennia, inhabitants across Europe believed in the existence of the undead that comes into being when spirits of evil beings, suicide victims or witches refuse to leave the mortal world; they could also be created when a sinister spirit possesses a corpse or when bitten by another vampire. To stop these haunted souls from hurting the living, many people buried dead bodies that they believed could come back to haunt them by burying a sickle across their neck or large stones wedged into their mouths.
On completion of the first ever biochemical analyses of human skeletal remains to discern differences in social identity between individuals within standard and deviant burials the researchers came to the conclusion that the bodies buried in Drawsko cemetery were actually that of local patients who died of cholera. Somehow, the practitioners believed that people who died of the cholera epidemic that spread across Eastern Europe were likely to come back as vampires.
For the study published under "Apotropaic Practices and the Undead: A Biogeochemical Assessment of Deviant Burials in Post-Medieval Poland" in Plos One, the researchers examined 285 skeletal remains uncovered between 2008 and 2012 from a post-medieval cemetery in the Polish town of Drawsko. Of the bodies representing individuals of all ages and both sexes, six likely underwent "deviant burial".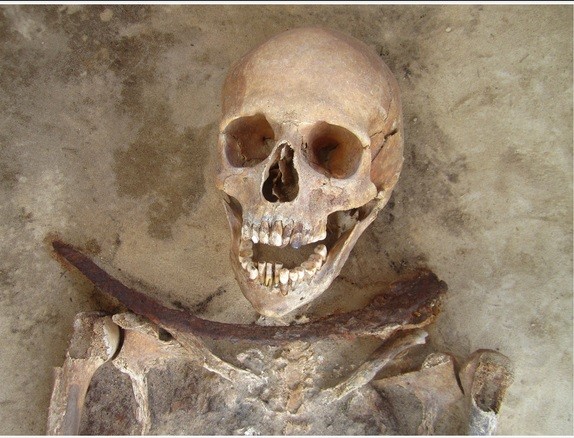 "Of these six individuals, five were interred with a sickle placed across the throat or abdomen, intended to remove the head or open the gut should they attempt to rise from the grave," one of the researched Lesley Gregoricka from University of South Alabama and colleagues, reveals. Two others had "large stones positioned beneath their chins, likely as a preventative measure to keep the individual from biting others [4] or to block the throat so that the individual was unable feed on the living".
Gregoricka and her colleagues, Tracy K. Betsinger of SUNY College at Oneonta, Amy B. Scott University of Manitoba and Marek Polcyn of Lakehead University, tested the permanent molars of 60 dead bodies, including that of six "vampires," and confirmed that contrary to their initial assumption that the people who were buried as vampires were targeted because of their outsider status as immigrants, they may actually have been patient zeros for cholera.