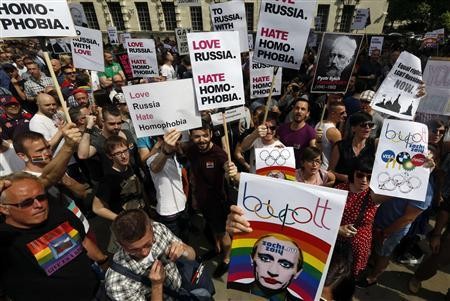 An interesting ad by XXL All Sports United, a Norwegian sporting apparel retailer has gone viral for a good reason. It is perhaps the biggest attempt by companies to rip apart what has been considered Russia's 'ridiculous' anti-gay laws.
The new commercial titled 'Airport Love' had a rather unusual way of sending across its message.
The 1.5-minute video starts with a beautiful, well-dressed and smart looking woman entering the airport in an attractive black one-piece. She quickly gathers a surge of attention from virtually every male that she comes by as she confidently walks ahead without being bothered by the attention.
The male athletes representing different sports keep trying to impress her in a series of spectacular sporting adventures, but the woman seems oblivious and gives no heed to them as she continues walking towards her plane.
It is only in the last few seconds of the ad that it is revealed to the bewildered male wooers why she wouldn't be interested in them after all. The video ends with the text: "Whatever team you play for...XXL All Sports United"

Attempts have been made in various ways and forms to discourage Russia from discriminating against homosexuals, and the on-going Winter Olympics has been an important bargaining chip for companies, leaders and people world-wide to call Russia to stop the discrimination.
This video was also released at the same time as the opening ceremony of the games in Sochi. Among other talented athletes in the film, three of them are famous Norwegian champions: Former world champion Anders Solum (freestyle football) Edward Strand (alpine) and Sune Wentzel (Frisbee).
IOC President Thomas Back, in his speech during the opening ceremony gave one of the boldest anti-discrimination messages, which later became widely discussed in news outlets.
"Yes, Yes, it is possible - even as competitors - to live together under one roof in harmony, with tolerance and without any form of discrimination for whatever reason. Yes, it is possible - even as competitors - to listen, to understand and to give an example for a peaceful society," he said in the emotional statement.
The number one website and search engine giant, Google also started a timely venture into its advocacy towards Gay rights by launching a Google Doodle in the colours of the rainbow flag and featuring images of winter games event, just as the Opening ceremony was about to start in Sochi on 7 February.
The doodle that was linked to search results for "Olympic charter" came accompanied with a quote from it: ""The practice of sport is a human right. Every individual must have the possibility of practicing sport, without discrimination of any kind and in the Olympic spirit, which requires mutual understanding with a spirit of friendship, solidarity and fair play."