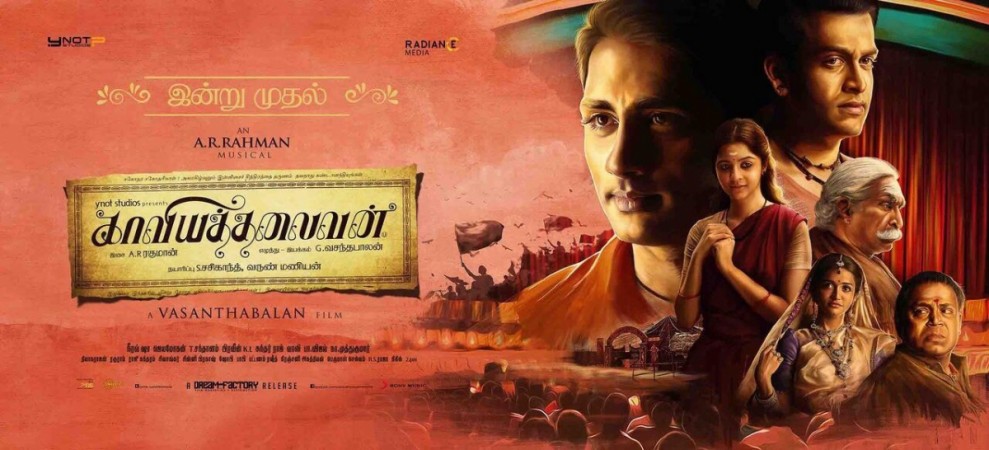 The winners of the 6th annual Norway Tamil Film Festival (NTFF) - Tamilar Awards 2015 were announced on 15 March Sunday at Oslo City, Norway.
Tamil movie "Kaaviya Thalivan" topped the list of winners in various categories, including Best Director – Vasanthabalan, Best Actor – Siddharth, Best Actress – Vedhika, Best Supporting Actor –Nassar and Best Supporting Actress – Kuyili and Best singer – Haricharan.
Renowned film maker K Balachander, who passed away recently, will be honoured with the Lifetime Achievement Award, and actor Sivakumar will be felicitated with the "Kalaichchigaram" Award.
Norway Tamil Film Festival (NTFF) - Tamilar Awards is one of the most prestigious Tamil film awards that happen outside India. The event will be held from 23 April to 26 April 2015.
Here is the complete list of winners
Category
Winner
Film
Best Film
"Cuckoo"
Fox Star Studios
Best Director
Vasanthabalan
"Kaaviya Thalaivan"
Best Actor
Siddharth
"Kaaviya Thalaivan"
Best Actress
Vedhika
"Kaaviya Thalaivan"
Best Music Director
Santhosh Narayanan
"Cuckoo", "Jigarthanda"
Best Production
"Ramanujan"
Camphor Cinema
Best Lyricist
Yugabarathi
"Cuckoo"
Best Character Actor
Bobby Simha
"Jigarthanda"
Best Supporting Actor
Nassar
"Kaaviya Thalaivan"
Best Supporting Actress
Kuyili
"Kaaviya Thalaivan"
Best Cinematograph
Vetrivel Mahendran
"Kayal"
Best Singer - Male
Harichanran
"Kaaviya Thalaivan"
Best Singer - Female
Vaikkom Vijayalaxmi
"Ennamo Etho – Puthiya Ulagai"
Best Editor
Vivek Harshen
"Jigarthanda"
Best Social Awareness Award
Gourav
"Sigaram Thodu"
Lifetime Achievement Award
K.Balachander
Kalaichchigaram Award
Actor Sivakumar
Special Jury Award – Outstanding Performance
Vincent
Director Balumahendra Award
R.Partheeban
"Kathai Thiraikathai Vasanam Iyakkam"
NTFF 2015 – List of Awardees – TamilarViruthu– Diaspora
| | | |
| --- | --- | --- |
| Midnight Sun Award - Diaspora | "Uyirvarai Inththaai" | "Aprodigi Productions" |
| Best Director Tamil - Diaspora | Stephen Pakiyanathar | "9C Oslo" |
| Best Actor Tamil - Diaspora | Jeyasanth Kanagalingam | "9C Oslo" |
| Best Actress Tamil - Diaspora | Narvini Dery | "Uyirvarai Inththaai" |
NTFF 2015– List of Awardees – Tamil Short | Documentary| Music Video| Best Short Film – World Cinema
| | | |
| --- | --- | --- |
| Best Short Film Award | "Mouna Vizhiththuligal" | Ram Ilango |
| Best Short Director | V.Gouthaman | "Puththandu Parisu" |
| Best Short Film Actress | Sowndarya Shetty | "Deiva" |
| Best Short Film Cinemathographer | Vamsi Krishna | "Saani Yuththam" |
| Best Tamil Documentary | Director: Venkatesh Kumar.G | "Kannadi Bommaigal" |
| Best Tamil Music Video | Director: T.Satheeshkanth | "En Uyirai" |
| Best Short Film – World Cinema | Director: William Rubeck Lindhardt | "Transit" |