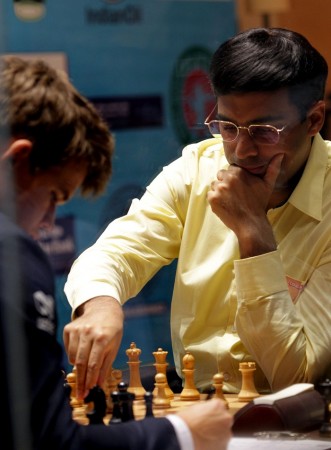 After a dramatic first round of the Norway Chess 2015 tournament, it seems to have been somewhat of a sedate second round with four draws and a single win. Top chess players around the world are battling it out in the mega event.
With a surprising loss to Veselin Topalov in the first round, Magnus Carlsen was determined to defeat Fabiano Caruana in the second round of the competition. But, Carlsen once again suffered a loss.
Carlsen started the game on a bright note, but his opponent Caruana found a way to break through.
With this loss, Carlsen has not started the competition on the right note and needs to be on top of game when he faces Anish Giri in the third round of the competition.
Meanwhile, Anish was able to come up with a draw against India's Viswanathan Anand in the second round.
Anand might have been decent with his performances, but is yet to register a victory in the Norway Chess tournament, after he finished his first game with a draw as well. Anand faces Alexander Grischuk in the third round of Norway Chess 2015.
When Jon Ludvig Hammer clashed against France's Maxime Vachier-Lagrave, who had won the blitz tournament earlier, it was the game to watch. But, it was Lagrave's defense which helped him draw level with his opponent.
In the third round, Hammer face Levon Aronian and Lagrave will go up against a confident Veselin Topalov, who defeated Magnus Carlsen in the first round, and drew with Hammer in the second round.
Despite Carlsen having lost both his matches, take nothing away from the Norwegian, who is one of the best chess players in the world and can definitely change his fortunes quickly.
Where to Watch Live
The third round of the Norway Chess 2015 is scheduled for 4pm CET (8:30pm IST, 11am ET, 4pm BST) start.
It can be watched via live streaming online from the official website.