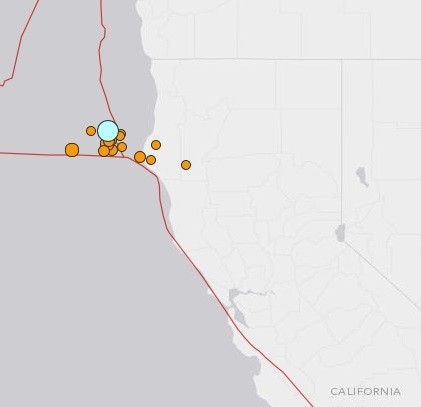 A powerful 6.9 magnitude earthquake jostled the coast of Northern California late Sunday, the US Geological Survey has reported.
The effects of the massive earthquake were felt as long and slow by residents from San Francisco to southern Oregon, Los Angeles Times has said.
The temblor struck at 9:18 pm PDT and was centered 50 miles west of Eureka. The epicenter lied four miles beneath the pacific seabed, the US Geological Survey has said.
The USGS earthquake map indicates that the earthquake was followed by at least 15 other aftershocks at the time of writing this article. One of the aftershocks had a 4.6 magnitude.
There were no reports of any damages or injuries, although there were reports saying that the quake was felt widely and strongly.
Reports suggest that the quake lasted for as long as 20 seconds. LA times quoted Raquel Maytorena, 52, who lives about a mile from the coast in Ferndale near Eureka as saying, "It just kept going and going, very slowly and softly. It was not violent, It almost felt like you were in a boat that was rocking."
The quake was classified as "light to moderate," by USGS.
The area is considered seismically active and there have been similar-sized quakes in the area regularly.
A 6.5 magnitude hit the same area in 2010.
In 1964, an 8.8 magnitude earthquake in Alsaka caused catastrophic damage on the North Coast.
(Edited by Anu James)