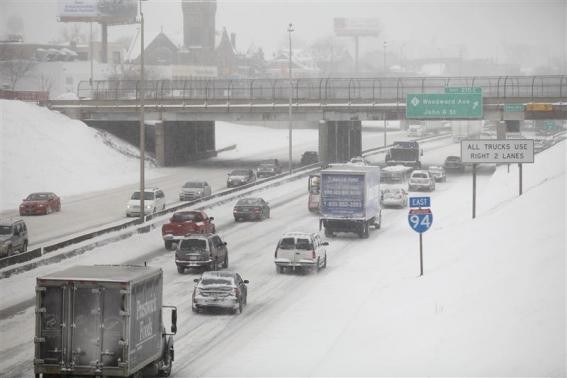 The first major snow storm of 2014 has hit the northeastern part of US, bringing as much as 21 inches of snowfall in a town in Massachusetts, disrupting thousands of flights and leaving people in utter chaos.
The New York and New Jersey governors have declared a state of emergency, urging people to stay indoors while the storm brought dangerously low temperatures and strong winds from the lower Mississippi Valley to the Atlantic coast. Parts of New England including Boston is shivering in as much as 14 inches of snow, received until Friday morning.
"As this winter storm unfolds, bringing heavy snow and high winds to many parts of the state, I strongly urge all New Yorkers to exercise caution, avoid travel and stay indoors," New York Governor Andrew Cuomo said.
FlightAware.com, a website that tracks air travel has announced that more than 2,200 flights were cancelled on Thursday. As of Early morning of Friday, another 1000 flights scheduled to fly later in the day had been cancelled. Boston's Logan International Airport had warned that takeoffs would end by 8:30 pm EST on Friday.
Chicago's O'Hare International and Newark's Liberty International Airport were the worst-affected. New York's three major airports were arranging cots to accommodate stranded travelers.
"We have a few hundred cots at each of the airports should you decide to become an overnight guest," Thomas Bosco, an official with the Port Authority of New York and Jersey, at New York's LaGuardia Airport told Reuters.
Many schools and business have closed after it was warned that the storm would worsen overnight and into the morning of Friday.
Extreme level of Snow
The National Weather Service said late on Thursday that almost 53 cm of snow was recorded in Boxford, north of Boston. Areas of Massachusetts and New York recorded similar falls.
Parts of the states of Vermont, New Hampshire and Maine were also expected to accumulate similar amount of snow. About 10 inches of snow is expected in the Long Island region of New York and a blizzard warning has been issued for the place.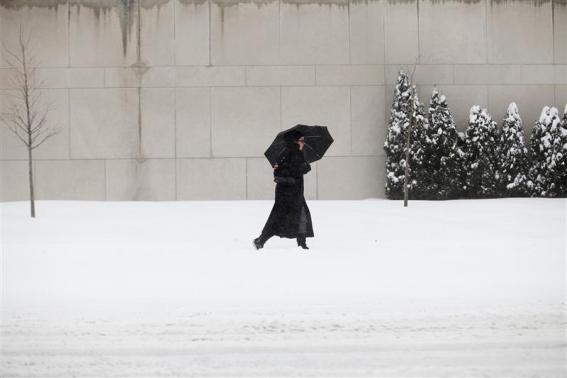 The storm comes as an early test for New York City's Mayor Bill de Blasio, who was sworn in only on Wednesday. He had criticized his predecessor, Michael Bloomberg's response in similar storm that hit the city in 2010.
"It would have been nice to have a nice, calm first day but we have snow on our mind, and we are focused like a laser on protecting the people of the city and getting everyone ready," 52-year-old Blasio said in his first news conference.
Meanwhile, the storm comes only a few days before Boston Mayor Thomas Menino ends his 20 years in office.
"I guess Mother Nature wanted to give me one more gift," he told reporters.
"Take precautions and take public transportation and take care of one another," he added.
Massachusetts Governor Deval Patrick ordered state offices to remain closed early on Thursday and told staff to stay indoors on Friday.
"Minimize outside activities...These temperature are very, very dangerous," he said.
Further south in New Jersey and Eastern Pennsylvania, smaller amounts of snow were expected to fall.