Incessant rain in the past 24 hours has wreaked havoc in a few northeastern states. The heavy rainfall has left several areas inundates and has also triggered flash floods.
Live Updates
2018-06-1413:39 (IST)
Tripura CM seeks Army help
Even as situations in Tripura continues to worsen Tripura chief minister Biplab Deb has sought the help from the Indian Army to rescue people and has also requested the Union government to increase the number of NDRF personnel in Tripura.
"We have kept ready a Pawan Hans helicopter and sent a requisition to the Indian Air Force (IAF) to provide two more helicopters to rescue marooned people and to provide relief to the affected families if necessary," an official of the Tripura Disaster Management Control Centre told IANS.
2018-06-1413:33 (IST)
Manipur CM on flash floods
"The situation is critical. Almost the entire Imphal Valley resembles a sea. Some hill districts have been also badly affected by landslides. We are trying to rescue people and give relief to them. We are assessing the situation," said Manipur Chief Minister N Biren Singh, reported News Indian Express.
2018-06-1413:26 (IST)
More rains till June 15
According to the MeT department more rains are expected over Meghalaya and Assam and isolated places over Nagaland, Manipur, Mizoram and Tripura will experience heavy to very heavy rain. The rains will continue till June 15.
2018-06-1413:10 (IST)
Mizoram
Lunglei and Mamit districts have been the most affected. While over 250 houses have been submerged under water, landslides were reported in several other regions.
2018-06-1411:16 (IST)
Holiday declared in Manipur
The General Administration Department in Manipur has declared a holiday for all the schools and educational institutes and government officers. The flash floods have also affected the All India Radio (AIR) office in the state's capital Imphal
2018-06-1411:14 (IST)
Manipur
In Manipur, several rivers like Imphal, Nambul, Nambol, Thoubal, Maklang started overflowing and has inundated localities in Imphal East, Imphal West, Bishnupur and Thoubal districts.
2018-06-1411:07 (IST)
Tripura
The houses of over 3,500 families have been destroyed in Tripura. The affected families have been lodged in 89 relief camps by the State Emergency Operation Centre (SEOC).
2018-06-1411:03 (IST)
Assam
According to a report by the Assam State Disaster Management Authority (ASDMA), at least 1,48,912 people have been affected in 222 villages under eight revenue circles in the districts of Biswanath, Karbi Anglong West and Karbi Anglong East, Golaghat, Karimganj and Hailakandi.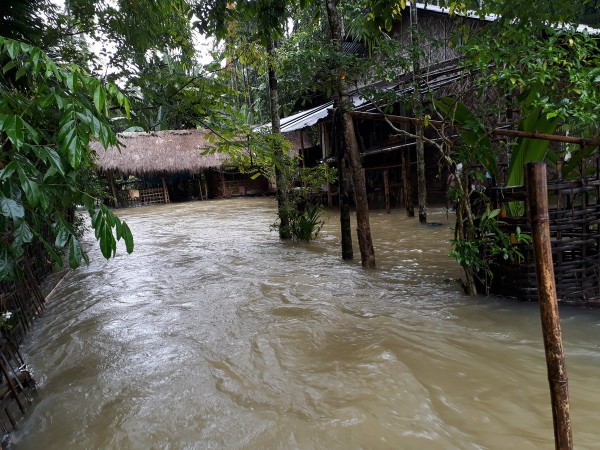 2018-06-1410:57 (IST)
Areas that recorded heavy rainfall
The places which have recorded heavy rainfall are Majbat 121 mm, Silchar 115 mm, Imphal 64 mm, Tulihal 64 mm, Tezpur 64 mm, Cooch Behar 21 mm, North Lakhimpur 19 mm, Guwahati 17 mm, Dibrugarh 8 mm and Rangia 9 mm of rains, said the weather forecast site.
2018-06-1410:51 (IST)
Thousands affected
Thousands of people have been rendered homeless in Assam, Manipur, Mizoram and Tripura.
2018-06-1410:47 (IST)
Cyclonic depression over Assam
Moreover, a cyclonic circulation has developed over Assam and is drawing more moisture from the Bay of Bengal, leading to extremely heavy showers in n Assam, Meghalaya, Manipur and Mizoram, reported Skymet.
2018-06-1410:47 (IST)
Heavy rains due to depression
The Northeast India was hit by the Southwest Monsoon a few days ago. Initially the hilly regions experienced heavy rains due to a depression but as the Southwest Monsoon moved towards Myanmar, extremely hefty showers lashed Manipur, Mizoram and Tripura.