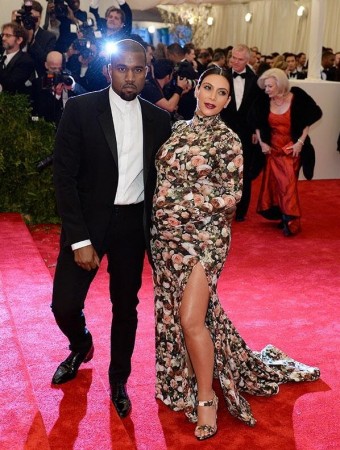 Socialite Kim Kardashian and her partner rapper Kayne West have not officially announced the name of their new-born daughter but the leaked name, believed to be North West, has taken the web world by storm
The celebrity couple's preposterous choice of name for the their baby girl has beome an internet sensation worldwide.
Just as Kardashian's eye-grabbing pregnancy outfits made news, it is no wonder the baby girl will be left behind in hogging limelight.
Kim, who gave birth prematurely on June 15 at Cedars-Sinai Hospital, has not come out with the photographs of the baby yet but TMZ leaked an image of the birth certificate signed by the socialite which had the baby's name as 'North West'. Initially, there were reports, that the baby would be called 'Noris', her middle name but the certificate has no middle name.
As soon as the name was leaked, ridiculous jokes on the name became a senastion as 'North West' was seen trending on Twitter. The name joined the wacky set of celebrity baby names like Beyonce's girl, Blue Ivy and Gawyneth Paltrow's daughter, Apple Martin.
Comedian Paul Scheer launched early into the name attack tweeting, "I'm going to name my 1st born South East so it will become mortal enemies with North West."
DeMarko Gage tweeted, "So Blue Ivy got the stripper name, and North West got the direction to the strip club? Nice, team work."
Jim Rogers tweeted, "I hope when she's old enough Kanye West's daughter does an biography and names it after herself. Then it'll be called North by North West."
@OfficialScottD took the name direction wise lampooning it, "Make fun of Kim's name choice for North West if u want, but that baby is going straight to the top ... And slightly to the left."
Another twitterati added to the joke saying, "So I'm assuming that North West won't be a One Direction fan?"
Initial speculations of the couple's baby name were Kaidence or Kai, given the Kardashian clan's favourtism for- 'K' names.