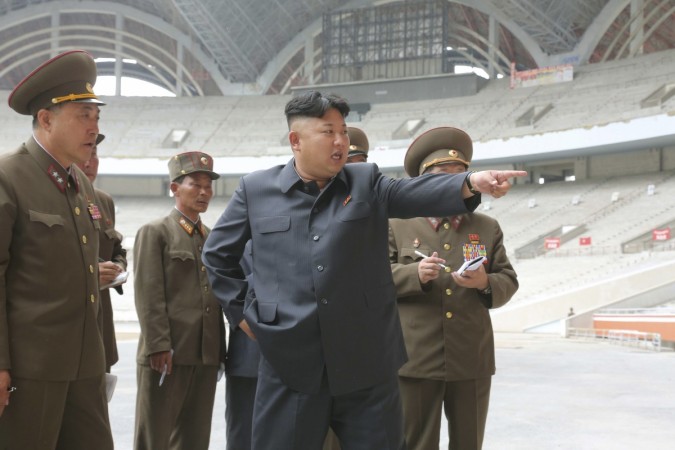 North Korea said on Friday that it has successfully tested a new high-precision, tactical guided missile, threatening a "devastating" retaliation and attacks on those who challenge Pyongyang's sovereignty, especially South Korea.
The nation's propaganda news outlet, Korean Central News Agency reported that the launch of the "cutting-edge" missile, which it said was guided and supervised by its leader Kim Jong-un was a "breakthrough" in national defence capability.
The KCNA report came just a day after the communist country test-fired three short-range projectiles into the East Sea, South Korea's Yonhap News Agency reported.
The report by the North's sole news wire service said its leader Jong-un "guided the test-launch of newly developed cutting-edge ultra-precision tactical guided missiles," adding that the launch had been "successful."
"The test-firing clearly proved that the tactical guided weapons didn't have an inch of deviation in their scientific and technological performance," the report said.
"The test-launch helped the Korean People's Army get the master key to putting all strike means including short-, medium- and long-range guided weapons on ultra-precision basis of the world level and opened a prospect for maximizing their striking accuracy and power,".
North has not yet disclosed when the reported test-firing took place, although there is wide consensus among South Korean officials that it mostly likely refers to Thursday's firing.
"Our analysis of its trajectory and other details led us to believe that what North Korea fired off yesterday was the 300-millimeter multiple-rocket launchers," an officer of the Joint Chiefs of Staff told Yonhap.
"North Korea appears to test-fire them to extend its range further," he said, adding that the range of the missile was around 190 kilometers.
The Rodong Sinmun, the official newspaper of the North's ruling party, on Friday also published pictures of the new missile being tested under the northern leader's guidance.
Jong-un is reported to have stressed on the weapon's importance in providing credible "pre-emptive" striking capabilities.
South Korean media outlets have noted that the large-caliber rocket could pose a catastrophic threat to South Korea, as it has the ability to strike major military facilities, including the headquarters of three military branches located some 130 kilometers south of Seoul.
The North has been trying to equip the launcher with robust guidance system in its aim to boost its accuracy rate, for a long time now.
The reclusive communist country has also said the latest test-fire marked "a significant event in bolstering up the defense capability for self-defense."
"Kim Jong Un expressed great satisfaction over the results of the test-firing," Yonhap quoted North's KCNA as saying.