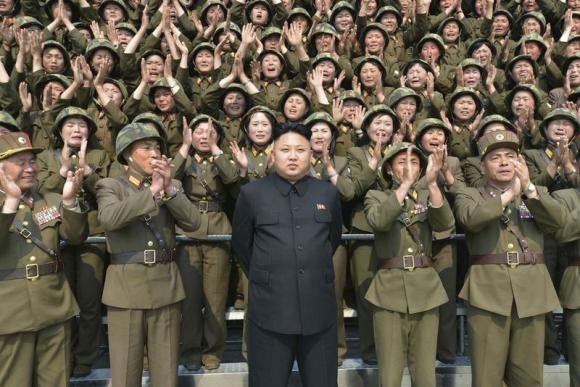 North Korea fired another salvo at the United States on Wednesday, with the regime's top military body accusing the latter of 'igniting a war of aggression', and called off all negotiations and dialogues.
The Kim Jong-un-led National Defence Commission (NDC) has also threatened the US with nuclear strikes and cyber warfare, claiming that it will "write the last page of US history".
"Since the gangster-like U.S. imperialists are blaring that they will "bring down" the DPRK ... the army and people of the DPRK cannot but officially notify the Obama administration of the USA that the DPRK has neither need nor willingness to sit at the negotiating table with the U.S. any longer," the commission said in an article published in the state-run KCNA news agency under the headline 'U.S. Imperialists Will Face Final Doom'.
"Today the Obama group is going so foolish as to try to "bring down" the DPRK through a cyber warfare by fabricating the non-existent "human rights issue" of the DPRK and floating the fiction about its "cyber attack" on the Sony Pictures Entertainment," the statement read.
"Under this dangerous situation the army and people of the DPRK have decided to write the last page of the U.S. history of shameful defeat about its final ruin exactly on the U.S. land by dint of Paektusan arms."
The statement comes in the light of reported attempts at holding talks between Washington and Pyongyang. According to reports, US and North Korean nuclear envoys had been discussing possible ways to revive six-nation talks on denuclearisation, which have long stalled.
However, North Korea has now alleged that the US is attempting to "bring down" the regime and has vowed to bring the US to its "final doom".
The statement seems to be another reaction to US President Barack Obama's earlier comment on North Korea, in which he called it the "the most isolated, the most sanctioned, the most cut-off nation on Earth" and predicted its eventual collapse.
North Korea had earlier responded vehemently to Obama's comment, stating that the nation would not "sit any longer with the rabid dogs openly barking".
"If the US ignites a war of aggression against the DPRK by conventional forces, it will fight it by conventional forces of its style, if the former unleashes a nuclear war against the latter, it will counter it through its own nuclear strikes, and if the former tries to bring down the latter through a cyber warfare, it will react to it with its own preeminent cyber warfare and will thus bring earlier the final ruin of the US," the commission warned.