Hours after tremors of an artificial quake in North Korea caused by its sixth nuclear test was felt up to China, the reclusive country announced it successfully tested its advanced hydrogen bomb on Sunday.
Read: North Korea says it has developed 'advanced hydrogen bomb'
10 times stronger than atom bomb
The hydrogen bomb designed to be mounted on its newly developed Intercontinental Ballistic Missile (ICBM) possesses "great destructive power". North Korea also added the hydrogen bomb testing has yielded greater results than any of its previous nuclear tests.
The test ordered by leader Kim Jong Un was a "perfect success" and was a "meaningful" step in completing the country's nuclear weapons programme, the North Korea's state television was quoted as saying by Channel News Asia.
In fact, North Korea has stated that the device is ten times stronger than an atomic bomb.
The tremors were so strong that Japanese and South Korean officials said it was around 10 times more powerful than the tremor picked up after North Korea's last nuclear test a year ago.
Sunday Express has reported the bomb could be 5 times bigger than the one dropped on Nagasaki during World War II on August 9, 1945.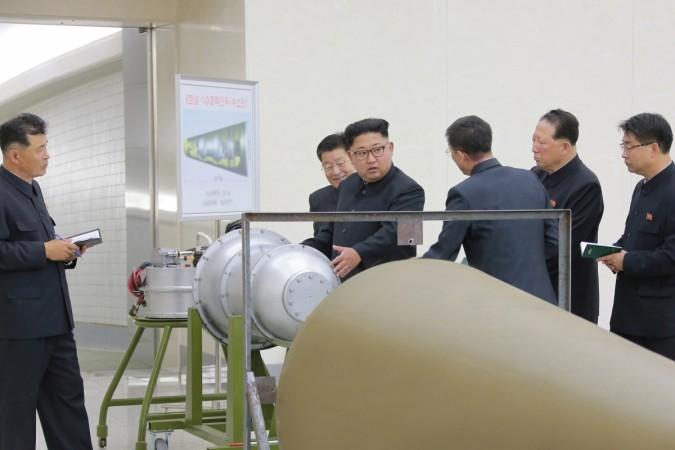 "The H-bomb, the explosive power of which is adjustable from tens kiloton to hundreds kiloton, is a multi-functional thermonuclear nuke with great destructive power which can be detonated even at high altitudes for super-powerful EMP (electromagnetic pulse) attack according to strategic goals," said North Korea's official KCNA news agency.
"All components of the H-bomb were homemade and all the processes ... were put on the Juche basis, thus enabling the country to produce powerful nuclear weapons as many as it wants," KCNA further quoted Kim as saying.
Nuclear test causes two quakes
The successful test was reported after a 6.3 magnitude earthquake was detected by international seismic agencies. As the origin of the quake was near Punggye-ri, a known nuclear test site of North Korea, it was feared that the country had conducted its sixth nuclear test.
A second quake, measuring 4.6 on Richter scale was felt 10 minutes later.
The suspicions were soon confirmed by North Korea's state television anchor Ri Chun-hee.
As of now, only the US President Donald Trump and Japanese Prime Minister Shinzo Abe has spoken on the phone about the "escalating" nuclear crisis in the region.
Whether, the nuclear test would be discussed in the ongoing Brazil, Russia, India, China and South Africa (BRICS) summit is not yet known. However, it is a possibility, as China is North Korea's biggest trade partner followed by India.
Also, US and India are known for pressing China towards exerting more economic and diplomatic pressure on North Korea to rein in its nuclear and missile programs.

Meanwhile, China's President, Xi Jinping did not address the nuclear test directly during his 40-minutes speech at the BRICS Summit but said a dark shadow is looming over the world, reported The Guardian.
"Thanks to the joint effort of all countries, global peace has reigned for more than half a century. However, incessant conflicts in some parts of the world and hotspot issues are posing challenges to world peace," said Jinping.
"The intertwined threats of terrorism and a lack of cybersecurity – among others – have cast a dark shadow over the world. People around the world want peace and cooperation, not conflict or confrontation," he further added.