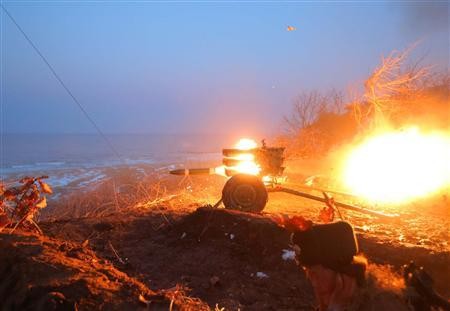 Amid growing tension in the Korean peninsula, North Korea on Wednesday said that it will cut a military hotline, the last channel of communications with South Korea saying that war could break out any time.
Pyongyang had earlier cut off the Red Cross hotline with South Korea and threatened to cut the hotline on 11 March if Seoul and Washington DC did not cancel their joint military exercise.
This is the latest move by North Korea after raising several threats to the United States and South Korea following their joint military drills and the UN's new sanction on the impoverished country for conducting a nuclear test in February.
"Under the situation where a war may break out at any moment, there is no need to keep north-south military communications which were laid between the militaries of both sides," KCNA news agency quoted a military spokesman as saying.
"There do not exist any dialogue channel and communications means between the DPRK and the U.S. and between the north and the south."
It was reported that North Korea has stopped responding to calls on the hotline to the US military and has ordered artillery and rocket units to be prepared to strike US bases in Hawaii, Guam and the US mainland.
North Korea's supreme leader, Kim Jong Un, had earlier told its troops to be on alert for a potential war. Pyongyang even threatened to strike the US with nuclear weapons and claimed that it has scrapped the 60-year-old Armistice Agreement 1953 that ended the Korean War.
The situation in the Korean peninsula is tensed but some analysts feel that Pyongyang would not go to war but try to force the US and other countries to opt for negotiations. Some even argue that North Korea's nuclear threat to the US hold no weight as it has no lighter nuclear warheads to hit the country.