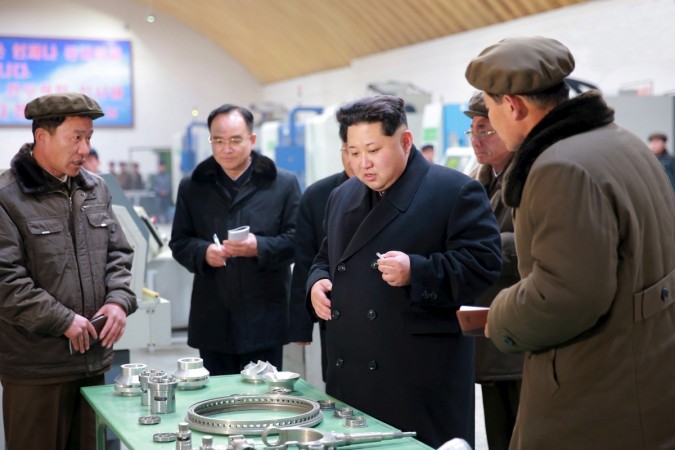 UPDATE: 16:22 p.m. IST -- Russia Thursday urged North Korea to draw the "right conclusions" from the UN resolution that imposed heavy sanctions on it. Russia also reportedly pushed the Kim Jong-un regime to resume talks.
"We hope that the North Korean side will adequately perceive this decision and make right conclusions and return to the negotiating table on the settlement of the nuclear problem of the Korean peninsula," the Russian foreign ministry said in a statement, according to TASS news agency.
Russia also warned the United States against escalating tension by placing its missile shield deployment in the region.
"We also expect that the UN Security Council resolution won't be interpreted as the ground for exacerbating the economic and humanitarian situation of North Korean citizens," the Russian ministry said.
Original story:
North Korea reacted to the United Nations Security Council's toughest sanctions by firing short-range missiles into the Sea of Japan Thursday. The UN body had, Wednesday, adopted a resolution imposing tough sanctions on the Kim Jong-un regime for the nuclear test it conducted in January.
South Korea's Yonhap news agency reported Thursday that six short-range projectiles were fired from North Korea's Wonsan port city, which it said could be 300 millimeter rockets or short-range missiles.
The new sanctions include a ban on all exports, including coal, iron, iron ore, gold, titanium ore, vanadium ore and rare earth metals, to North Korea as well as on the supply of all types of aviation fuel, including rocket fuel.
"Today's unanimous action by the Security Council has sent a clear message that the DPRK must return to full compliance with its international obligations," Secretary-General Ban Ki-moon said in a statement.
The resolution also brought about an asset freeze on all funds of the North Korean government associated with its nuclear or ballistic missile programme. The Council also included small arms and light weapons to the arms embargo that has been in place since 2006.
"The international community, speaking with one voice, has sent Pyongyang a simple message: North Korea must abandon these dangerous programs and choose a better path for its people," U.S. President Barack Obama reportedly said.