North Korea remained defiant and seemingly unperturbed by the latest sanctions imposed on it by the United Nations, as it fired another "highly proactive" ballistic missile over Japan on Friday. North's leader Kim Jong-Un on Saturday said that the country aims to reach an "equilibrium" of military force with the United States.
After North fired another missile, the US suggested that its patience for diplomacy with Pyongyang is running out. The United Nations Security Council (UNSC) on Monday had unanimously passed new sanctions against North Korea, banning textile exports and restricting shipments of oil products to Pyongyang in an effort to cripple the nation's economy, thereby pressuring it to cease its nuclear efforts.
However, the North Korean leader -- after the latest missile test -- talked about Pyongyang's heightened efforts of its military to stand against the US.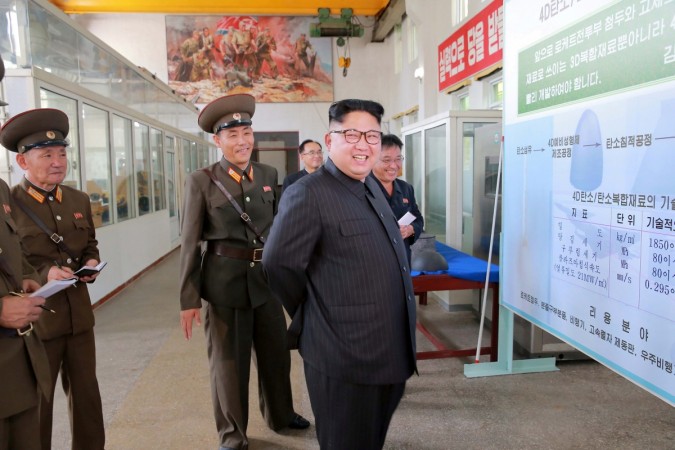 "Our final goal is to establish the equilibrium of real force with the US and make the US rulers dare not talk about military option," Kim was quoted as saying by the state news agency, KCNA.
Pictures of the North Korean leader watching the latest ballistic missile fly from a moving launcher were released by the agency, where he was also seen surrounded by several officials.
North Korea's latest test missile flew over Hokkaido in northern Japan on Friday and landed in the Pacific about 2,000 km (1,240 miles) to the east, the Japanese government said. It travelled about 3,700 km (2,300 miles) in total, according to South Korea's military, far enough to reach the US Pacific territory of Guam, which the North has threatened before.
"The combat efficiency and reliability of Hwasong-12 were thoroughly verified," said Kim as quoted by KCNA. He also added that the North's goal of completing its nuclear force had "nearly reached the terminal".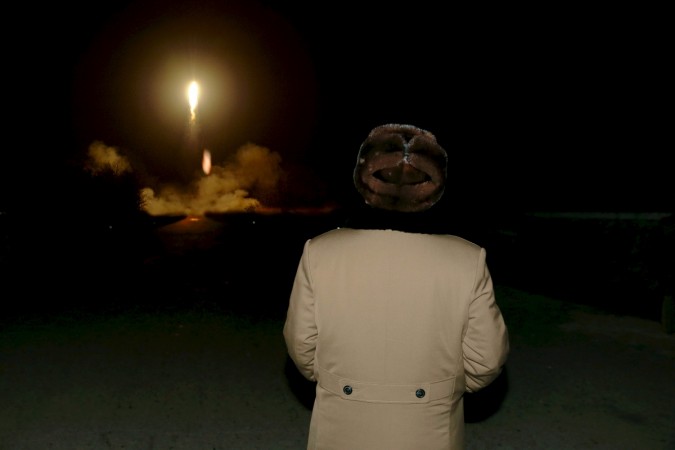 North Korea has continued with its nuclear testing and ballistic missile launches despite several sanctions imposed on it by the UN. The nation is continuing to pursue its nuclear ambitions, despite being isolated from the rest of the world.
The White House National Security Adviser HR McMaster -- soon after the launch of the latest ballistic missile -- said that the US was running fast out of patience with North Korea's burgeoning missile and nuclear programs.
"We've been kicking the can down the road, and we're out of the road," McMaster told reporters, referring to Pyongyang's repeated missile tests.
"For those who have been commenting on a lack of a military option, there is a military option," he said, adding that it would not be the Trump administration's preferred choice.