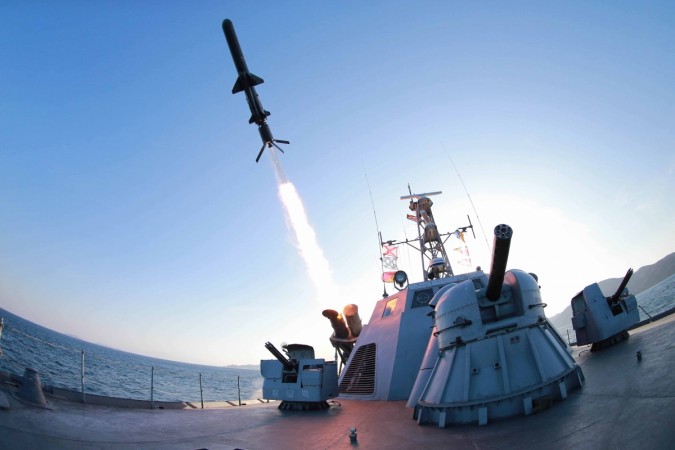 Stepping up protests against the upcoming military exercises by the United States and South Korea, North Korea fired a barrage of missiles into East Sea on Sunday.
The firing of the short-range missiles came as a high-profile US diplomat stressed the need to sustain sanctions pressure on Pyongyang during his visit to South Korea on Monday.
South Korea, in its response, said on Monday that it would take stern actions against the possible provocation from its Northern counterpart. The Unification Ministry spokesman, Lim Byeong-cheol, told a press conference that the country is closely monitoring changes in North Korea's attitude and situations while promising to strongly deal with the country's provocation.
The reclusive nuclear-armed country, headed by Dictator Kim Jong-un, fired missiles before the arrival of US Deputy Secretary of State Antony Blinken on Monday. Stressing the need to step up sanctions and pressure on Pyongyang, Blinken's talks in Seoul focused on N Korea's nuclear and missile programs, reports AFP.
Blinken said that increased pressure on the North Korean regime has made a "meaningful difference" in its ability to acquire materials used to manufacture weapons and missiles.
Sunday's firing was the country's second missile launch in 2015. Anti-ship missiles were fired on 6 February in waters off the Wonsan area, China's Xinhua notes.
The extremely cash-strapped and malnourished nation, also known as DPRK, has already been subjected to a series of US and UN sanctions over its aggressive approach; although not everyone is convinced that the measures have been able to deter North Korea's nuclear and missile development.
The controversial country, however, enjoys good relations with Russia and China – an instance that seems to be working greatly in advantage for the otherwise-solitary nation that reportedly witnesses the worst kind of human rights violations of the 21st century.
Russia, for example, is planning to conduct joint military drills with North Korea and Cuba, in response to the increased international isolation from Western countries due to its policies.
Relations between Russia and the United States have also sunk to its lowest since the Cold War era and the Kremlin appears to be seeking support from the few of its allies left, bringing North Korea increasingly closer to itself.
Blinken, who is currently on a three-nation tour, has said that the United States was still open to bringing North to the negotiating table but it must first show signs of agreeing to denuclearization.
"And until the North Koreans demonstrate that they are serious, it is important to sustain the pressure on them," he said as quoted by AFP.