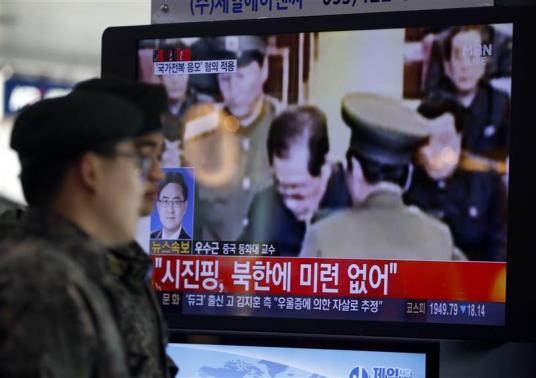 North Korea on Friday announced that Chang Song-thaek, the disgraced uncle of its leader Kim Jong-un has been executed, a dramatic turn of event which marks the biggest upheaval in the leadership of the reclusive nation.
The news created shock-waves among the United States' officials, who said that although they had no way to independently verify the news, they had "no reason to doubt" it.
Chang was executed on Thursday, shortly after a special military trial, KCNA, Pyongyang's state run news agency reported.
Chang, who was considered to be the second most powerful man after the supreme leader, Kim Jong-un, was executed just days ahead of the second anniversary of the death of Kim Jong Il, the father of North's current ruler.
Chang was shown in rare pictures being removed from a Communist Party politburo meeting by armed guards earlier this week. The KCNA news agency said that the military trial on Thursday announced him guilty of attempting to overthrow the state, and was executed.
The powerful diplomat who was often considered to be a mentor to his nephew was reduced to a disgraced anti-national traitor within a matter of days by the North's regime. The KCNA news agency, which is known to carry the secretive country's propaganda news, said that Chang, due to his 'sick' and immoral behavior was "worse than a dog".
In a detailed and lengthy report, the news agency said that Chang had admitted abusing his positions of responsibility to form a faction against the state and to engendering his own political ambitions.
The White House in the US was quick to react to the news and said that the incident only portrayed the true nature of the North Korea regime.
"If confirmed, this is another example of the extreme brutality of the North Korea regime," Patrick Ventrell, a spokesman for the White House's National Security Council said. "We are following developments in North Korea closely and consulting with our allies and partners in the region."
Earlier in the week, North Korea said that it had dishonored Chang and stripped him of his power and positions, accusing him of criminal acts including mismanagement of the state financial system, womanizing and alcohol abuse.
"From long ago, Chang had a dirty political ambition. He dared not raise his head when Kim Il Sung and Kim Jong Il were alive," KCNA said. "He began revealing his true colours, thinking that it was just the time for him to realize his wile ambition".
Meanwhile, South Korea, North's long-time foe has expressed deep concerns with the execution.
"The government has deep concerns about a recent series of developments in Noeth Korea and is watching the situation closely," South's Unification Ministry spokesman Kim Eyi-do told Yonhap News Agency.
"We will make sure to be prepared for all possibilities in the future," he added.