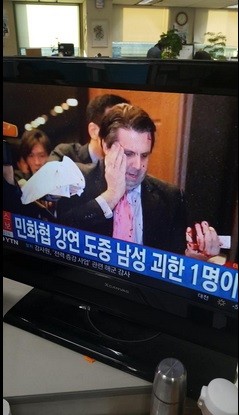 North Korea has reacted to the knife attack on US Ambassador Mark Lippert in Seoul on Thursday by a pro-North attacker, calling it a 'just punishment'.
Kim Ki-jong, 55, slashed Lippert with a knife on his face and wrist, while yelling "South and North Korea should be reunified".
He was protesting against the joint US-South Korea military drill that began on Monday.
North Korea referred to the attack as a "valid expression of resistance", in a brief statement through its official news agency KCNA, with a headline that read 'Just punishment for US warmongers'.
Kim is known for his leaning towards the North, given that he had attempted to build a memorial for former North Korean leader Kim Jong-II in Seoul.
He had criticized the military exercises in his recent blog posts as well.
"The reason why the reunion between family members (separated by the 1950-53 Korean War) couldn't take place...If the two countries reduce the scale and period of the exercises, North Korea would respond accordingly," he had written, according to South Korea's Yonhap News Agency.
North Korea retaliated to the military exercise by firing two short-range missiles into the East Sea, hours after the joint annual 'Key Resolve' and 'Foal Eagle' drill began on Monday.