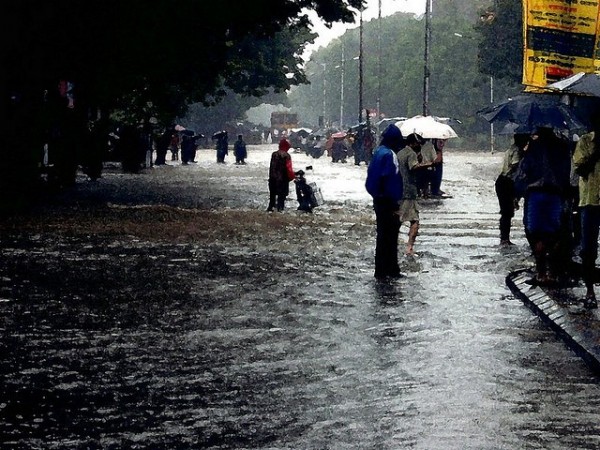 Heavy rainfall in Jammu and Kashmir (J&K) triggered flash floods on Sunday, affecting about 30 villages across the northern state.
Amidst forecast of further rainfall, the flash floods in Samba district of J&K has displaced about 26 families. At least 24 families from Barian village and two in Thalote village were shifted to safer outlets, officials told Press Trust of India (PTI).
The incessant rains have also affected Uttar Pradesh where two people were reported dead from flood-hit districts of Ghazipur and Ballia.
The Central Water Commission in Uttar Pradesh said that major rivers in the state were flowing dangerously close to the red mark. The River Ganga has already breached the danger mark at Varanasi, Ghazipur, Ballia and Phaphamau (Allahabad).
Himachal Pradesh also experienced heavy rainfall and over the next two days, torrential downpours are expected to hit the state. Dharamsala received maximum rainfall at 132 mm.
Even Rajasthan is expected to receive more rains as a cyclonic circulation is seen over the south-eastern part of the state and neighbouring states, an MeT office said.
Scathing Summer in Delhi, Punjab, Haryana
Although rains are expected within 24 hours, temperatures are above normal. High humidity has hit Delhi and the states of Punjab and Haryana.
The maximum temperature in Delhi was raised two notches above normal at 35.8 degrees Celsius and humidity varied from 59 and 88 percent. The weather department predicted light showers in the national capital.
High temperatures grappled Punjab as Patiala was the hottest in the region. The city experienced a high temperature that was three notches above normal at 35.6 degrees.
Rain eluded Haryana as well. Hisar and Narnaul registered a maximum temperature of 35.5 degrees.
Temperature in the capital city of both states, Chandigarh, was notched up to 35.2 degrees.