The Monsoon mayhem in North India has worsened with 130 deaths being reported and emergency operations in line to rescue around 70,000 pilgrims who are left stranded in the floods.
The most affected area is Kedarnath, a Hindu holy town in Uttarakhand, where incessant rains and floods have killed around 50 pilgrims, many of whose bodies are said to be still lying in debris. The Kedarnath shrine itself has suffered major damage after being inundated with floods for days now.
Rescue operations in Haridwar district by National Disaster Response Force (NDRF) teams were reportedly cumbersome with landslides proving a hazard.
According to The Times of India, around 5,600 army jawans were deployed in the state. Until now, around 8000 people were rescued from the Hasil, Twanghat and Joshinath areas.
Himachal Pradesh Chief Minister Virbhadra Singh was airlifted to safety by chopper after a 60 hour-long struggle in Kinnaur district where 10 people were killed due to floods.
Meanwhile, Prime Minister Manmohan Singh and Congress Chief Sonia Gandhi would do an aerial survey of the worst hit areas in Uttarakhand. Home Minister Sushil Kumar Shinde said emergency food relief are being sent.
"There are 14 NDRF teams at work and over 4000 people have been rescued by the Army and 62, 000 are still stranded. Food packets and blankets have been sent, local doctors have been arranged at the areas... we are also setting up a Control center in Badrinath," said Shinde, reported Firstpost.
Food Minister KV Thomas has been endowed with the responsibility of providing food packets to the affected lot.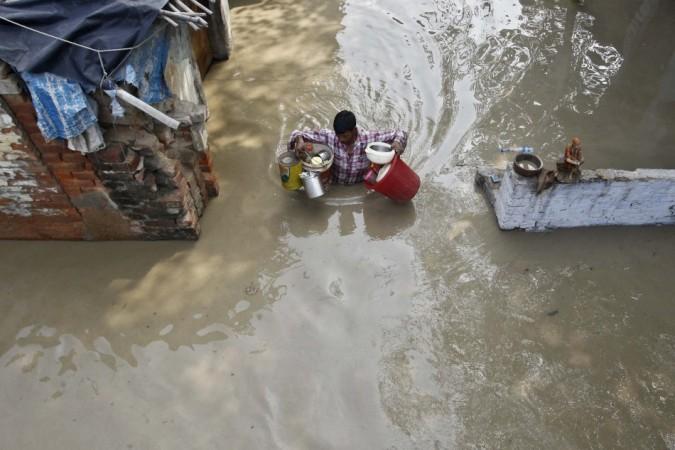 The national capital Delhi stands a higher chance of being flooded as Yamuna was recorded flowing dangerously above the regular levels with the release of 9.5 lakh cusecs by Haryana in the last two days.
"The water level of Yamuna crossed the danger mark of 204.83-m at 7 am and reached 205.58-m at 7 pm," said officials in the flood and irrigation department, reported CNN-IBN.
They further added that the water level is likely to touch 207.05-m around noon on Wednesday which will be around 2.22-m above the danger level. Major low-lying areas of Delhi have been evacuated and the old Yamuna bridge had to be closed down on Tuesday due to the in-flow of higher water level which affected road and rail traffic.
The government has issued Emergency helpline numbers :
For Uttarakhand State:
Uttarkashi: 01374-226126, 226161
Chamoli: 01372-251437
Tehri: 01376-233433
Rudraprayag: 01732-1077
The ITBP has also established helpline and control room for information on Uttrakhand: 011-24362892 and 9968383478.
Army medical emergency helpline numbers: 18001805558, 18004190282, 8009833388