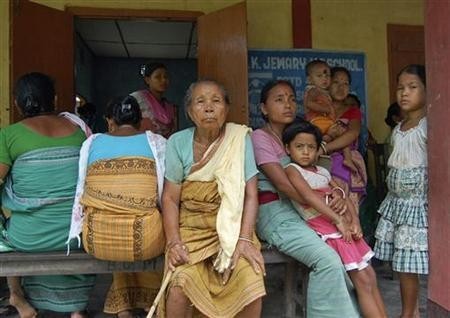 Union Home Secretary RK Singh on Friday declared that the situation in Assam as well as Bangalore is under control. More than 11,000 people from northeast have left Bangalore for their home towns in the last couple of days following rumours of attack on the people from the region.
Singh on Friday assured people that strict action will be taken against those spreading rumours about attacks on people from northeast.
"People found spreading rumours wouldn't be spared. Those responsible for exodus from Bangalore will not be left free," Singh told reporters.
When asked about people fleeing Bangalore after rumours of attack, he replied, "People from minority community had themselves told to the north eastern people that there was no threat to them."
On Thursday, Karnataka Chief Minister Jagadish Shettar had assured the north east people that they are not a target of violence. Even Home Minister Sushil Kumar Shinde has asked Karnataka police to provide full protection to the north east people.
"Many people from the north-east have been peacefully living in Bangalore for the last 10-12 years. Some rumors have created fear in them. But there is no basis for this fear. No untoward incident has been reported of any attack on north-eastern citizens in Bangalore. So I urge them to stay here," Shettar told news agency ANI.
Earlier today, the representative of students from the northeast met Shettar and home minister and told them that all was not well with them.
"They may be rumours. But we have evidence where our own friends were chased. They are just afraid to report. That does not mean everything is ok," Anirban Dutta, coordinator, Northeast and Tibetan Forum said.
Meanwhile, Union Information and Broadcasting Minister Ambika Soni on Friday said that people who are spreading rumours do not deserve to be called Indians adding that the manner in which rumours are spread is a matter of great shame.
"These SMSes have brought turmoil in the lives of those students and people, who have collected money and gone to various parts of the country for education and to earn their livelihood. Where are their (those spreading rumours) national sentiments? They don't deserve to be called Indians," she said.