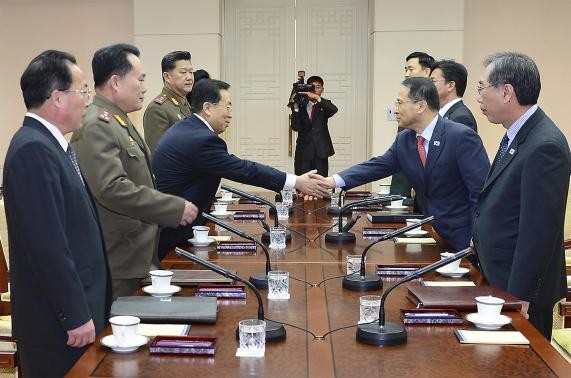 In what has been considered a crucial meeting that could set the tone for improving inter-Korean ties after months of tensions, the two Koreas are holding their first high-level talks in seven years on Wednesday.
The rare talks comes amid a spate of recent conciliatory overtures North Korea displayed towards its Southern counterpart and just four days after Pyongyang made a surprise offer for a comprehensive discussion.
The South Korean Yonhap News Agency said that officials from both the sides sat down for the talks at the border village of Panmunjom shorly after 10 am (local time).
South Korea's chief delegate, Kim Kyou-hyun had said ahead of the talks that he will meet with his North Korean counterpart with "an open attitude to explore the chance of opening a new Korean peninsula."
Kim told reporters in Seoul that ensuring reunification of families separated by the 1950-53 Korean War would be his priority.
Last Wednesday (5 January), the two Koreas had agreed to reunite families estranged after the Korean War, but North threatened to suspend the agreement the very next day, if the joint military drill goes ahead.
The two Koreas are due to hold reunions of families divided by the 1950-53 war on 20 February, which had resulted in the partitioning of the Korean Peninsula.
The meeting being held on Wednesday comes only weeks before the military exercises in South Korea that the North has been pressing to stop. South Korea and the US are scheduled to stage their annual Key Resolve command post exercise and Foal Eagle field training in late February.
North Korea on Sunday insisted that the US is trying to carry out a preemptive nuclear attack on the country.
"If the US is sincerely interested in peace and nuclear disarmament, it should not seek its ambition to carry out a pre-emptive nuclear attack against (North Korea)," the reclusive nation's state-run Rodong Sinmun newspaper said Sunday. "The US should immediately suspend its nuclear war practice it is pushing to hold in South Korea."
North has in the past, shown hostility to the joint military exercise, despite Seoul's insistence that they are defensive in nature and not aimed at any war practices.
Last year, North issued a series of threats aimed at the joint military exercises, staged shortly after the controversial 12 February nuclear test. North Korea, at one point, even went to the extent of warning the two countries that it would reduce Seoul and Washington to a "sea of fire" with a nuclear attack.