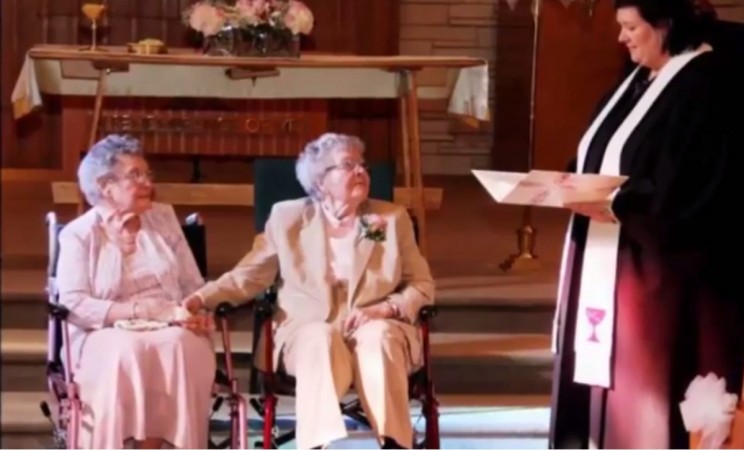 A lesbian couple -- in relationship for 72 years -- finally tied the knot in their nineties on Saturday at First Christian Church in Davenport, Iowa.
Vivian Boyack, 91 and Alice Dubes, 90, who sat next to each other on wheelchairs throughout the ceremony, got married last weekend, according to The Independent. Both of them finally took vows after 72 years of togetherness.
The wedding ceremony was attended by a bunch of close friends and family. The ceremony was solemnised by Reverend Linda Hunsaker. She said, "This is a celebration of something that should have happened a very long time ago," reports Mail Online.
The love birds met each other in 1942 in their childhood in their hometown Yale, Iowa, and have since grown up together. Then later in 1947, Boyack and Dubes shifted to Davenport and started began their respective careers. Boyack worked as a teacher while Dubes worked with a local newspaper named "The Times and Democrat" in the payroll office, according to The Independent.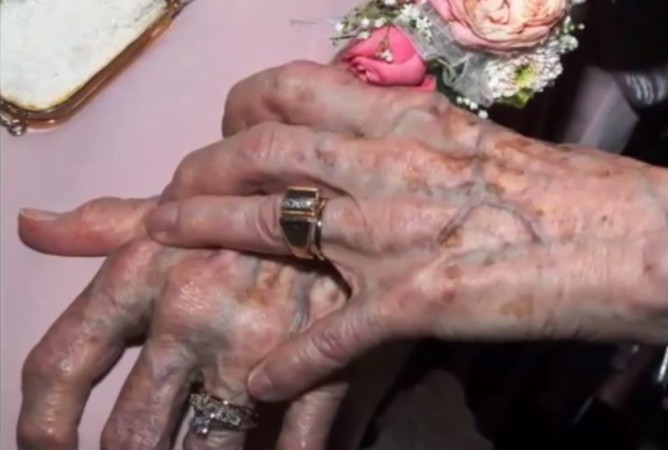 "We've had a good time," said Dubes.
The duo have enjoyed their life together, over the years travelling to 50 states in America, all the provinces of Canada and even visiting England twice, said Dubes.
According to Mail Online, Boyack said that it takes lot of love and work to keep a relation going for 72 years. The couple was happy to tie the knot after keeping their relationship alive for such a long time. Apart from them, their friends and family were delighted to finally see them as a married couple.
Jerry Yeast, 73, a friend, said, "I've known these two women all my life, and I can tell you, they are special." Yeast has known them since the time they worked in her yard as teenagers.
Iowa legalised same-sex marriages in 2009. The couple said that it is never too late to begin a new chapter in life, reports Mail Online.