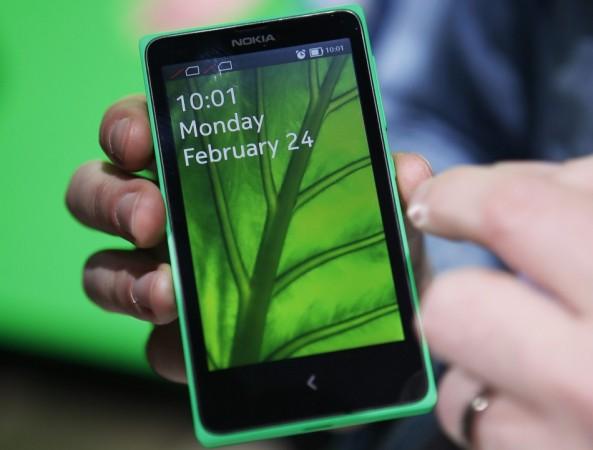 Finnish handset major Nokia officially launched the company's first ever Android-based smartphone Nokia X in India on Monday.
Nokia X has been made available across India starting 10 March for ₹8,599 [MRP]. As of the now, online stores - The Mobile Store and Saholic - have already begun accepting orders from consumers for the Nokia Android phone with price tags ₹8,349 and ₹8,999 respectively.
The company also stated two other variants Nokia X+ and 5.0-inch model Nokia XL would be released in two months time (60 days), reported BGR India.
Nokia X sports a 4.0-inch WVGA (800x480p) IPS LCD screen with pixel density of 233 ppi (pixels per inch) and ships with X Software v1.0, a tweaked AOSP (Android Open Source Project) OS.
Unlike normal Android based handsets, the Nokia X will feature 'Tiles' like interface seen inside the Windows Phone OS-powered devices. Instead of Google-based maps and applications, people will find Nokia's Here maps service, Mix Radio (with more than 30 million songs), Nokia browser and more. Users can also side-load Android apps from third party app stores.
Inside, it packs a 1GHz Snapdragon S4 dual-core CPU, backed by 512MB RAM and 4GB inbuilt memory (expandable up to 32GB).
The phone also houses a 3.0-megapixel main camera (no flash support) on the rear side and a 1500 mAh battery which can power the phone for up to 17 days, under standby mode.
With superior polycarbonate-based build quality and time-tested brand value, Nokia X is expected to pose a serious threat to budget Android smartphones made by domestic vendors.
Key specifications of Nokia X, Nokia X+ and Nokia XL:
Model

Nokia X

Nokia X+

Nokia XL

Display

4.0-inch WVGA (800x480p) IPS LCD screen with pixel density of 233 ppi (pixels per inch)

4.0-inch WVGA (800x480p) IPS LCD screen with pixel density of 233 ppi

5.0-inch WVGA (800x480) IPS LCD screen with pixel density of 187 ppi

OS

Nokia X Software v1.0 (part of AOSP- Android Open Source Project)

Nokia X Software v1.0 (part of AOSP- Android Open Source Project)

Nokia X Software v1.0 (part of AOSP- Android Open Source Project)

Processor

1GHz Dual-core Qualcomm Snapdragon S4 series CPU

1GHz Dual-core Qualcomm Snapdragon S4 series CPU

1GHz Dual-core Qualcomm Snapdragon S4 series CPU

RAM

512MB

768MB

768MB

Storage capacity

4GB (expandable up to 32GB)

4GB (expandable up to 32GB)

4GB (expandable up to 32GB)

Camera

Main: 3.0-megapixel camera with 4X zoom, (No-flash)

Front camera: N/A

Main: 3.0-megapixel camera with 4X zoom, (No-flash)

Front camera: N/A

Main: 5.0-megapixel camera with LED flash. Panorama lens

Front: 2.0-megapixel HD wide-angle camera, f/2.8 aperture

Battery

1500 mAh;

Talk time: up to 13.3 hours (2G) and 10.5 hours (3G)

Standby mode with dual-SIM: close to 17 days

1500 mAh;

Talk time: up to 13.3 hours (2G) and 10.5 hours (3G)

Standby mode with dual-SIM: close to 17 days

2000 mAh;

Talk time: up to 16 hours (2G) and 13 hours (3G)

Standby mode with dual-SIM: close to 30 days

Add-ons

Dual-SIM, Bluetooth v3.0 (with HS), Wi-Fi (802.11 b/g/n), micro-SUB v2.0, Nokia store apps with third party Android applications, microSD card slot, stereo FM Radio,

Dual-SIM, Bluetooth v3.0 (with HS), Wi-Fi (802.11 b/g/n), micro-SUB v2.0, Nokia store apps with third party Android applications, microSD card slot, stereo FM Radio,

Dual-SIM, Bluetooth v3.0 (with HS), Wi-Fi (802.11 b/g/n), micro-SUB v2.0, Nokia store apps with third party Android applications, microSD card slot, stereo FM Radio,

Dimensions

115.5 x 63.0 x 10.4 mm

115.5 x 63.0 x 10.4 mm

141.4 x 77.7 x 10.9 mm

Weight

128.7

128.7 g

190 g

Colors

Black, Cyan, Green, Red, White and Yellow

Black, Cyan, Green, Red, White and Yellow

Black, Cyan, Green, Red, White and Yellow

Price

MRP in India after taxes: ₹8,599

€99 (around ₹8,500 )

(excluding local taxes)

€109 (around ₹9,300)

(excluding local taxes)
(Edited by Vishnuprasad S Pillai)