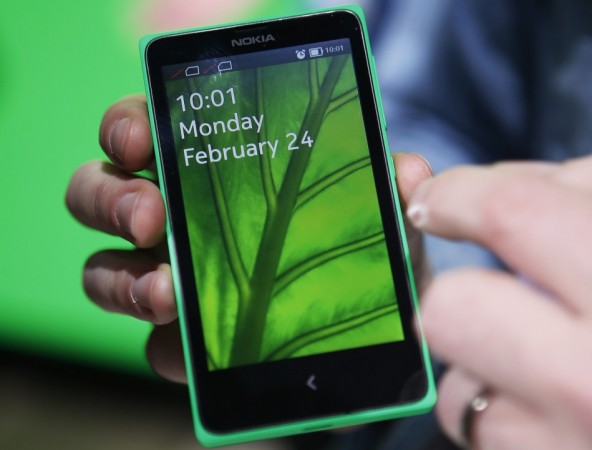 The Finnish company's first ever Android based smartphone Nokia X is reportedly set to hit Indian stores in March third week.
Online retailer, The Mobile Store listed the Nokia device to be available from 15 March for ₹8,500, but took down the message soon after report went wild on the internet. However, another online shop Saholic has gone a step ahead by taking orders for Nokia X from buyers for ₹8,499 with a promise of delivering the item on 25 March.
Nokia X, despite being an entry level smartphone created huge buzz during the unveiling at the recently concluded MWC (Mobile World Congress) 2014, mainly due to the timing of the Nokia's strange tactic to launch an android device when the company is on the verge of acquistion by Microsoft (by March End), who is directly competing with Google for the smartphone market share.
Nokia X sports a 4.0-inch WVGA (800x480p) IPS LCD screen with pixel density of 233 ppi (pixels per inch) and runs on AOSP (Android Open Source Project) OS version titled as Nokia X Software v1.0.
Under the hood, it houses a 1GHz Snapdragon S4 dual-core CPU, 512MB RAM, 3.0-megapixel main camera (no flash) on the rear side and a 1500 mAh battery, which can power the phone for up to 17 days under standby mode.
Nokia X+ and XL, which made their debut last month are slated to hit stores in the second quarter of 2014, said a company press release.
Key specifications of Nokia X, Nokia X+ and Nokia XL:
Model
Nokia X
Nokia X+
Nokia XL
Display
4.0-inch WVGA (800x480p) IPS LCD screen with pixel density of 233 ppi (pixels per inch)
4.0-inch WVGA (800x480p) IPS LCD screen with pixel density of 233 ppi
5.0-inch WVGA (800x480) IPS LCD screen with pixel density of 187 ppi
OS
Nokia X Software v1.0 (part of AOSP- Android Open Source Project)
Nokia X Software v1.0 (part of AOSP- Android Open Source Project)
Nokia X Software v1.0 (part of AOSP- Android Open Source Project)
Processor
1GHz Dual-core Qualcomm Snapdragon S4 series CPU
1GHz Dual-core Qualcomm Snapdragon S4 series CPU
1GHz Dual-core Qualcomm Snapdragon S4 series CPU
RAM
512MB
768MB
768MB
Storage capacity
4GB (expandable up to 32GB)
4GB (expandable up to 32GB)
4GB (expandable up to 32GB)
Camera
Main: 3.0-megapixel camera with 4X zoom, (No-flash)Front camera: N/A
Main: 3.0-megapixel camera with 4X zoom, (No-flash)Front camera: N/A
Main: 5.0-megapixel camera with LED flash. Panorama lensFront: 2.0-megapixel HD wide-angle camera, f/2.8 aperture
Battery
1500 mAh;Talk time: up to 13.3 hours (2G) and 10.5 hours (3G)

Standby mode with dual-SIM: close to 17 days

1500 mAh;Talk time: up to 13.3 hours (2G) and 10.5 hours (3G)

Standby mode with dual-SIM: close to 17 days

2000 mAh;Talk time: up to 16 hours (2G) and 13 hours (3G)

Standby mode with dual-SIM: close to 30 days

Add-ons
Dual-SIM, Bluetooth v3.0 (with HS), Wi-Fi (802.11 b/g/n), micro-SUB v2.0, Nokia store apps with third party Android applications, microSD card slot, stereo FM Radio,
Dual-SIM, Bluetooth v3.0 (with HS), Wi-Fi (802.11 b/g/n), micro-SUB v2.0, Nokia store apps with third party Android applications, microSD card slot, stereo FM Radio,
Dual-SIM, Bluetooth v3.0 (with HS), Wi-Fi (802.11 b/g/n), micro-SUB v2.0, Nokia store apps with third party Android applications, microSD card slot, stereo FM Radio,
Dimensions
115.5 x 63.0 x 10.4 mm
115.5 x 63.0 x 10.4 mm
141.4 x 77.7 x 10.9 mm
Weight
128.7
128.7 g
190 g
Colors
Black, Cyan, Green, Red, White and Yellow
Black, Cyan, Green, Red, White and Yellow
Black, Cyan, Green, Red, White and Yellow
Price
expected MRP in India after taxes: ₹8,500
€99 (around ₹8,500 )(excluding local taxes)
€109 (around ₹9,300)(excluding local taxes)