Nokia's premier camera app Refocus, which was exclusive only to high-end PureView camera based Lumia phones, has now been made available to all mid-range and lower-end Windows Phone 8 OS based devices.
"As we have seen with the great imaging apps like Nokia Camera before, lots of people have been asking for it and we responded. You spoke, we listened. Now anyone that owns a Lumia can enjoy the power and creativity of Nokia Refocus.", said Jens Eggert, Nokia's Lead Program Manager for Refocus.
The Refocus camera app lets user to take picture first and then allows user to focus/ blur by tapping on the object or a particular point in the background, the way he/she prefers.
It is best used when shooting close-ups of a subject. The effect is greater with more objects at different distances in the back ground as it enables you to show levels of depth in the photo.
User will also have a couple of tools - 'All in Focus', where in user can focus multiple points in the photo simultaneously, where as another 'Color Pop' gives you the option to highlight brightly-colored object by converting the background to black and white feature vice-versa.
.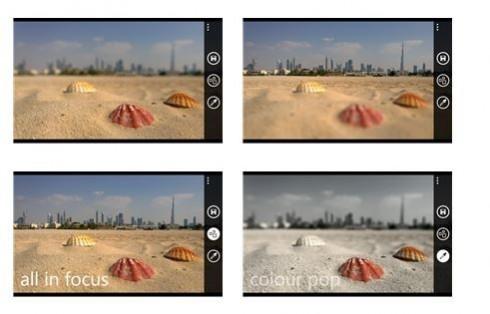 Another notable feature of the Nokia Refocus app is that, user can share the interactive photo with friends/family in Facebook, Twitter, email as well as messages, all he/she has to do is to own a SkyDrive account as the application first uploads your photos to SkyDrive and then creates a link that user can share with anybody. They don't even have to own a Lumia phone or Refocus app to tinker around and change focus themselves.
Nokia Refocus (v1.1.3.1) is 6MB in size and runs on Windows Phone v8.1 and Windows Phone v8.0 with Amber update. (To download, click here)