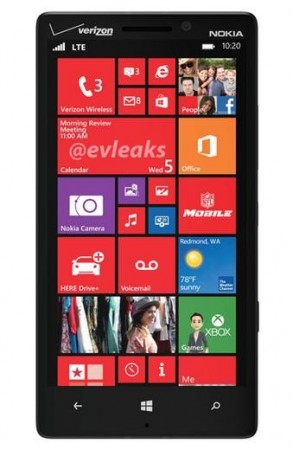 Nokia, one of the world's leading smartphone manufacturere, was pushed into the spotlight after introducing its first ever tablet, Lumia 2520, featuring full HD resolution screens in October.
The Finnish firm has once again diverted much attention towards itself after images and videos purported to be of Lumia 929 were leaked online. Here is a list of the specifications which are speculated to be in the smartphone:
Display: 5-inch Full HD (1080 x 1920) multi-touch display with a high 441ppi pixel density.
Memory: The device might carry 32GB in-built memory storage supported by 2GB RAM, reported Ubergizmo.
Camera : The rear camera comes with a 20.7-megapixel sensor with dual LED flash support. Details of the front camera are not yet revealed.
Processor and OS : Since Nokia has recently introduced its Lumia 1520 phablet which runs on the latest Windows Phone Black OS, Lumia 929 is also expected to come with Windows Black OS. The device is expected to feature a Snapdragon 800 quad-core processor according to All About Windows Phone.
Network and Connectivity: Lumia 929 is said to come with an older USB 2.0 version, reported Phone Arena. However, since the latest smartphones are coming with Bluetooth 4.0 Wi-Fi and NFC, Lumia 929 is also assumed to arrive with the same features.
Battery: The battery capacity of the device is speculated to be of 3400mAh, reported Windows Phone Daily.
The leaked video showing Lumia 929 can be viewed below:
[Video Courtesy: Tom Warren/Youtube]