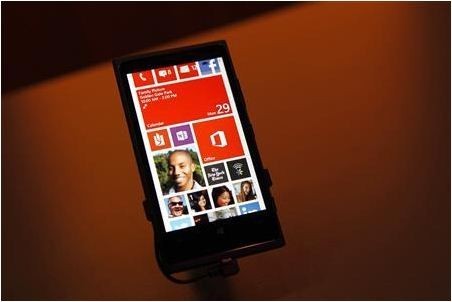 South Korean electronics major LG recently launched its second generation Optimus L7-2 series smartphone into the Indian market with an affordable price-tag.
Another MNC rival, Nokia, which was crowned top mobile maker in the subcontinent a few weeks ago, also launched a mid-range smartphone, Lumia 620, with peppy dual-colour back-panels.
Both smartphones fall in the sub-₹15,000 bracket and sport pretty descent features. If prospective buyers are looking to upgrade from budget-priced smartphones to mid-range smartphone, these two devices make a good buy.
Here is a brief description of main specifications of Nokia Lumia 620 and LG Optimus L7-2:
Display:
Lumia 620 sports a 3.8-inch TFT LCD screen with 800x480p resolution display, whereas LG smartphone sports a bigger screen 4.3-inch IPS WVGA display with 480x800p resolution
Processor:
In terms of power, Lumia 620 packs a Qualcomm based dual-core krait processor with a graphics engine Adreno 305, whereas LG Optimus L7-2 packs a dual-core Cortex A5 processor with 1GHz CPU speed and Adreno 203 GPU.
Camera:
Nokia's Lumia 620 sports a 5.0-megapixel main camera with 720p HD video-recording and VGA front camera. Optimus L7-2 packs an 8.0-megapixel main camera with LED flash support, 854x480p resolution video recording and 4X digital zoom. It also houses a 0.3-megapixel VGA camera on the front.
Operating System:
Like any other Android smartphone, Optimus L7-2 holds an upper hand over Windows Phone OS devices with the latest Android mobile OS v4.1 Jelly Bean. The Android ecosystem currently holds the second largest collection of more than 700,000 apps compared to Apple's app collection.
Lumia 620 buyers will have limited options with the Windows Phone 8OS. The new operating system was released less than six months ago in the market. It only holds a little over 150,000 plus apps and even popular photo app Instagram is yet to make its debut in the Windows app store.
Memory:
LG Optimus L7-2 comes with 768MB of RAM and 4GB storage capacity with options of expanding memory up to 32GB. Nokia's smartphone comes with 8GB internal memory capable of expanding up to 64GB via a micro-SD card, but the only drawback is that it comes with 512MB RAM. Lumia 620 falls short of the minimum system requirements to play popular mobile game "Temple Run" which requires 1GB RAM.
Price:
Currently in the market, Nokia Lumia 620's price is hovering between ₹14,000 to ₹14,500, whereas LG Optimus L7-2's price too is ranging between ₹14,250-₹14,900.
Here is breakdown of specifications of Nokia Lumia 620 and LG Optimus L7-2:
Model

Nokia Lumia 620

LG Optimus L7-2

(P715)

Display

3.8-inch TFT WVGA

(800x480) with ClearBlack

Display technology

4.3-inch WVGA IPS

Display with 480x800p

Resolutions

OS

Windows Phone 8 OS

(little more than 150,000 apps)

Android v4.1.2 OS Jelly Bean

(more than 700,000 apps)

Processor

Qualcomm SnapdragonTM

S4 based dual-core Krait processor with 1.0GHz CPU speed

Qualcomm Snapdragon based dual-core Cortex A5 processor with 1GHz CPU speed

GPU

Adreno 305

Adreno 203

RAM

512 MB

768MB

Storage

8GB, expandable up to 64GB

4GB, expandable up to 32GB

Camera

Rear:5.0-MP with Flash support (2592x1936p image resolutions)

Front: VGA camera(640x480)

Main:8.0-megapixel camera

with LED flash(3264x2448p image resolutions)

Front: VGA camera

Battery

1300 mAh, 330 hours(3G) standby time

2460 mAh, 852 hours (3G)

standby time

Network

2G & 3G

2G & 3G

Add-ons

Single-SIM, Wi-Fi (802.11 a/b/g/n), micro-USB v2.0,

Bluetooth v3.0,GLONASS,

A-GPS

Dual-SIM, Wi-Fi(802.11

b/g/n), USB, Bluetooth v3.0,

A-GPS

Dimension

115.4 x 61.1 x 11.0 mm

122.2 x 66.6 x 9.7 mm

Weight

127 g

120 g

*Price

₹14,230/-

₹14,990/-
*Price as listed in flipkart.com.