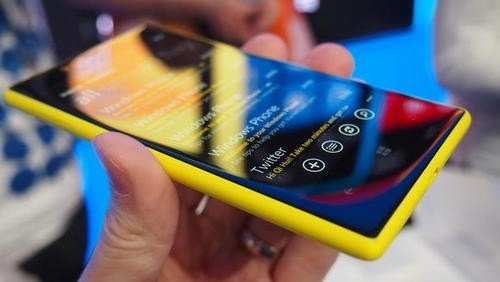 Nokia has become the second smartphone manufacturing firm to introduce air gesture technology in its smartphones after Samsung by introducing the idea of hovering. The existing feature in the Nokia smartphones with Amber update, tipped as "Peek" in the glance section, lets the user get a quick look of notifications when the phone is locked, by just a mere wave of hand.
The hovering feature for quick glance comes bundled with the Display+ section under the settings tab for the Windows 8 smartphones with Nokia Amber update.
However, the latest patent files that indicate a touchless interaction technology featuring panning and zooming features for texts and other objects suggest that the feature might be hitting the Lumia phones soon.
"...to respond to detecting a users digit at a location hovering over but not touching the touch screen by causing display of a first object at a location corresponding to the location of the digit to be changed from an original size to an enlarged size whilst causing display of other objects to remain substantially or exactly at their original size..," states the second patent filed by Nokia.
Phone Arena states that the user would enter three different modes, which will start with the person entering the zoom-pan mode, typing texts by hovering the fingers, followed by the panning of the word based on the hand movement of the user. As soon as the user touches the screen, the hover interaction mode will get deactivated.
The feature would however, make the typing of texts easier for the users. Currently only Nokia Lumia (with Amber update) and Samsung Galaxy S4 smartphones have the air gesture technology, but Nokia is trying hard to edge above its rival Korean smartphone maker with innovative ideas.
In related news, there are list of devices expected in the Nokia's 22 Oct. 2013 event which is to take place in Abu Dhabi. It has been rumoured that two new Lumia devices will be introduced in the event along with four new accessories.
Not much is known on the accessories Nokia plans to introduce, however, EV Leaks posted an image earlier which showcased a small square device with a strap attached to it. Digital Trends speculates the device to be a NFC/Bluetooth accessory or a camera remote shutter activating device or something else altogether.
The two new devices which are said to be introduced include the much hyped, Nokia Lumia 1520 phablet and the Nokia Lumia 2520 tablet which is also known with a "Sirius" codename. Recent reveals also indicate another device, tipped as Nokia Lumia 929 to be introduced.
Nokia Lumia 929 is said to feature a 20 megapixel Carl Zeiss Pure View camera and 4G LTE connectivity, reports GSM Arena. The Lumia 1520 and 929 are also rumoured to be the same devices.
However, details of the device and the event are yet to be confirmed by Nokia.