HMD Global brought back some good old memories, first with Nokia 3310 and later with Nokia 8810. While 4G support made these classic feature phones relevant today, they lacked some essentials. But after Reliance Jio confirmed WhatsApp integration on its KaiOS-powered JioPhone, HMD Global appears to be taking the same route for its Nokia 8810 4G.
HMD Global Chief Product Officer Juho Sarvikas hinted WhatsApp's support for Nokia 8810 4G in a tweet on Thursday. Without directly mentioning the phone's model, Sarvikas retweeted KaiOS' tweet about WhatsApp coming to JioPhone and wrote: "Oh look, WhatsApp on KaiOS! Looking forward to going [banana]s!"
Nokia 8810 is popularly known as a banana phone, mainly for its curved banana-shaped slider design. The handset already supports 4G VoLTE and WhatsApp integration will make a worthy concession to modern-day use.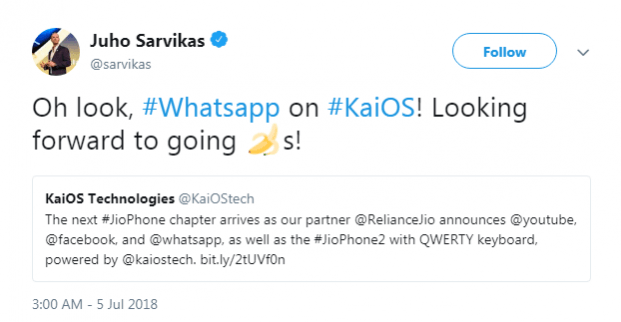 Unfortunately, Sarvikas did not reveal when exactly WhatsApp would be available for Nokia 8810 4G, but we expect the wait not to be too long. JioPhone will receive WhatsApp along with Facebook and YouTube following a software update on August 15. Since Nokia 8810 4G and JioPhone run the same OS, it is likely that HMD Global will follow Reliance Jio's lead.
Nokia 8810 4G already supports Google Assistant, Google Search and Google Maps. But by including WhatsApp into the mix, Nokia 8810 4G will get a massive boost as it is one of the most popular internet-based messaging apps available in the market right now.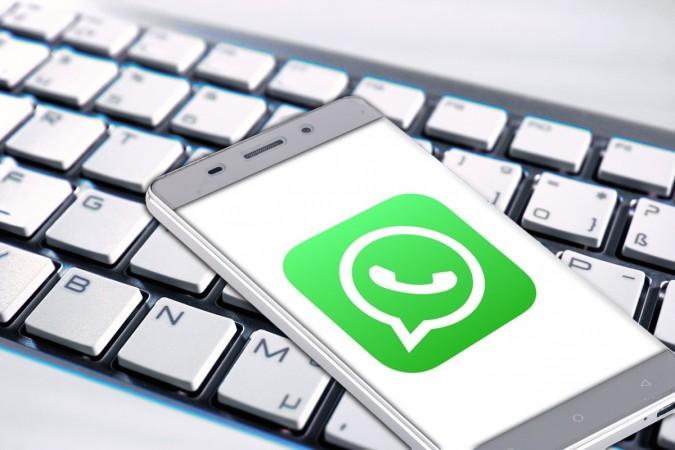 Even though it sounds great, we are yet to find out how different WhatsApp on KaiOS will be from its Android and iOS counterparts. It will naturally be a lighter version in order to be compatible with the low specs of feature phones, but will its users lose out on some features is the bigger concern.
Nokia 8810 4G was launched at the MWC 2018, but it is yet to be available in India, which gives an advantage to the JioPhone and JioPhone 2. The handset's key features include a 2.45-inch QVGA display, Snapdragon 205 chipset, 512MB RAM and 4GB internal storage.
Nokia 8810 4G comes with a 2MP rear camera with LED flash, a 1,500mAh battery and the biggest highlight is its curved slider that hides the physical keyboard.