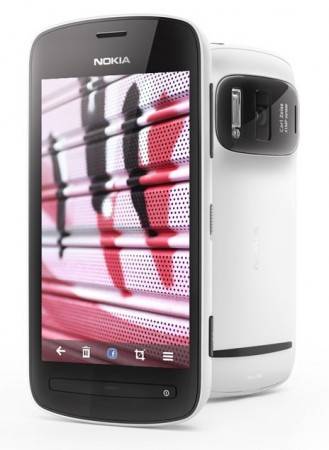 Nokia 808 PureView opens its big eye as it enters the Indian market. India is the first market to recieve the smartphone ahead of global release. The new Nokia camera feature phone will be sold at a price of Rs 33,899 (approx $600 US).
Unveiled on 27 February 2012 at the Mobile World Congress (MWC), the smartphone got rave reviews as it is considered to be the best camera phone in the world. It is the first handset to feature Nokia's PureView technology, which is a pixel oversampling technique that reduces an image taken at full resolution into a lower resolution. That in turn achieves higher definition and light sensitivity and enables lossless zoom.
Moreover, Nokia 808 PureView won "Best New Mobile Handset, Device or Tablet" at MWC 2012 and it also recieved the award for Best Imaging Innovation for 2012 from the Technical Image Press Association.
Nokia smartphone is impressive with build quality and sheer premium feel similar to that of HTC One X. And it's 4-inch screen balances the need for consumers who want a big display and equally of those who don't. With Gorilla Glass support and ClearBlack technology, the variety of colours becomes amplified. This smartphone is purely based on its camera, as quality of photo is unmatchable with dedicated graphics processor. Images up to 38 megapixels can be taken at 4:3 aspect ratio and 34 megapixels at 16:9 ratio. Also the zoom limit is reached once the area of the sensor reaches 3072 x 1728. The Carl Zeiss lens is teamed with Nokia's pixel over-sampling technology, which has been designed to produce sharp pictures even in low light conditions, along with the ability to save the images in compact file sizes for easy sharing.
The specifications of Nokia 808 PureView reads as 123.9 x 60.2 x 13.9 mm dimension, 4-inch 360 x 640 pixels AMOLED capacitive touchscreen, 16 GB storage, 1 GB ROM, 512 MB RAM, microSD support up to 32 GB, Wi-Fi 802.11 b/g/n, DLNA, UPnP technology, Bluetooth version 3.0 with A2DP, USB On-the-go support, 41-megapixel (38-megapixel effective, 7152 x 5368 pixels), 1/1.2'' sensor size, ND filter, up to 4x lossless digital zoom, geo-tagging, face detection, 1080p video capture, VGA secondary camera, Nokia Belle OS, 1.3 GHz ARM 11, Li-Ion 1400 mAh battery, HDMI portand talk time up to 6 hours 50 minutes on 3G.
Meanwhile here is a look at how the Nokia 808 Pureview certain features overshadows Apple iPhone 4S.
Two stage shutter:
The consumers, who like to shoot photos, can truely enjoy the two stage shutter shooting. With the first press, one can get the camera into focus and with the second press, it shoots. This feature is not found in Apple iPhone 4S.
Users can influence the speed using the ND filter and ISO controls. Using manual ISO allows shutter longer than 1/8, limit drops to 2.7 seconds and the night mode shutter speed limit is also 2.7 seconds.
More Megapixel:
Nokia's smartphone can capture 38 megapixel photo, that is 4.8x more megapixel compared to Apple's latest phone which offers 8-megapixel camera.
Branded Superior Lens:
Carl Zeiss lens gives the phone an excellent support from a branded manufacturer which iPhone 4S doesn't enjoy.
MicroSD Slot:
Internal storage can be extended with microSD cards.
USB Mass storage support:
Files, music, photos can be transfered via USB and there is no need to install additional software.
Radio:
The phone works with FM radio with included headsets.
HDMI output:
The HDMI output enables videos and movies to be watched on a TV.
DLNA:
It can stream videos and movies to other devices over-the-air while Apple iPhone 4S has a different feature known as AirPlay to do wireless transfer but depends on a remote app for better service.
Bigger Screen:
Nokia's PureView has 4-inch screen compared to iPhone 4S' 3.5-inch screen.
Standard USB cable Charging:
The handset from Nokia can be charged with a standard USB cable with your computer or with USB power supplies which iPhone 4S doesn't support.
Free Navigation Software:
Free navigation software with free map data and updates included, no need to buy a dedicated navigation device for Nokia. Apple's phone depends on third party apps.
Colours:
Nokia PureView comes in Black, White and Red colours compared to iPhone 4S which only comes in Black and White.
Faster Processor:
Nokia 808 PureView provides 1.3 GHz speed whereas iPhone 4S gives 1 GHz speed.