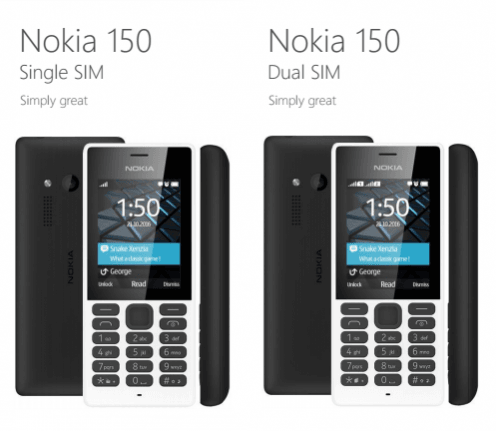 The Nokia 150, manufactured by HMD Global this time around, is now expanding rapidly and is now available for purchase in the Netherlands. USP of the Nokia 150 is its battery backup time that is estimated to last an entire day even in case of continuous usage. Its traditional Nokia branding is also eye grabbing as far as loyalists are concerned.
Now, in the current Netherlands release scenario, yet another important aspect of Nokia 150 is its 37 Euros price tag; which seems ultra-affordable even for non-Nokia loyalists. This edition of the Nokia 150 is reportedly the Black outer colour variant; a White-coloured edition is also said to be in the release pipeline in the very near future.
At this point in time, the Nokia 150 should be available at all retail stores (both online and physical) in the Netherlands. So, check out your nearest retailer now.
Areas where Nokia 150 impresses; despite the intensive smartphone competition
Besides its affordability factor, Nokia 150 features the all important aspect of a 'good' battery. Both the variants of the Nokia 150 offer a 1020 Lithium-Ion battery that is removable. USP here is that users would be able to get nearly a full day's worth of talktime even when the phone is used continuously after the battery is fully charged. This is considering the fact that earlier Nokia phones, such as the Nokia 105 (released in 2015) offered an 800mAh battery that offered 15 hours of talktime on continuous usage; and these handsets turned out to be popular (in emerging economies) in fact. Now, it only makes sense for Nokia loyalists to consider that the 1020 mAh battery's claimed talktime of almost a day could get practical.
Another notable aspect is the dual SIM-card slot; this makes sense considering the fact that this offering is treated as rare functionality within similar-range handsets manufactured by reputed names. In emerging markets, having dual SIM-card slots makes complete sense considering the intensity of usage of portable gadgets.
Finally, the Nokia 150 comes with a VGA rear camera which has the potential to make basic photography interesting. As far as the operating platform is concerned, the latest Microsoft Nokia 150 runs Nokia's once popular Series 30+ feature-phone operating platform that provides for smooth/intuitive in-phone navigation, and the cellphone lets users store up to at least 2000 contacts within.
[Source: 1, 2 (translated)].