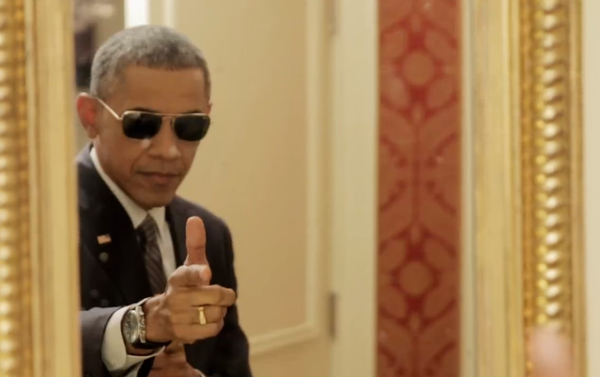 United States President Barack Obama and first lady Michelle Obama held one of their favourite traditions of organising a musical night at the White House on Friday.
During Obama's term, the first couple have dedicated several evenings especially to music and to review the musical history of the White House. The President in his address at the final musical night said that live performances have always been a part of the White House, dating back to 1801 when the US Marine Band performed at the first reception hosted by former President John and Abigail Adams.
Obama's final musical night named BET's "Love and Happiness" ended on Friday in a tent on the South Lawn of the White House. Obama at the musical event recalled how President Chester Arthur invited an all-black singing group to perform in the East Room and how Teddy Roosevelt invited ragtime composer Scott Joplin in the White House to perform for his daughter.
Obama said that the guests of President John F Kennedy danced and even did the "twist" in the East Room "which may not sound like a big deal to you, but that was sort of the twerking of their time." "There will be no twerking tonight. At least not by me. I don't know about Usher," the US President lightly added.
"We've had Bob Dylan and we've had Jennifer Hudson. Gloria Estefan and Los Lobos. Aretha, Patti, Smokey. I've had Paul McCartney singing 'Michelle' to Michelle and Stevie singing 'Happy Birthday. We've had Buddy Guy and Mick Jagger getting me to sing 'Sweet Home Chicago."
"So, this has been one of our favourite traditions, and it's with a little bit of bittersweetness that this is our final musical evening as president and first lady," Obama said at the concluding event.
Obama's presidential term will come to an end with this year's presidential elections. Recalling one of the perks that he will miss being a president, Obama said, "one of the perks of the job that I will most, along with Air Force One, and Marine One, you know, if you can just call up Usher and say, 'Hey, come on over ...'"
The musical night featured performances from many musicians and singers including Usher, The Roots, Bell Biv DeVoe, Janelle Monae, De La Soul, Yolanda Adams, Michelle Williams and Kiki Sheard.