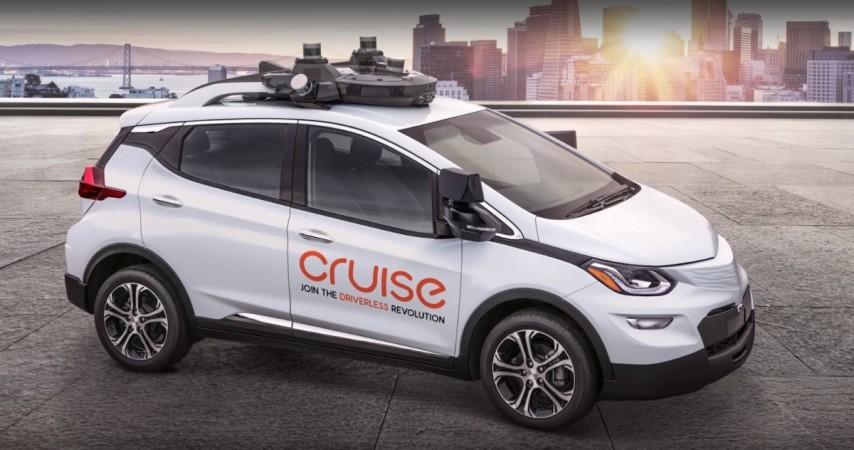 American auto giant General Motors (GM) has shed some light on its new car with no steering wheel or pedals. Christened as Cruise AV, the self-driving car based on the Bolt EV. The autonomous car is the brainchild of GM and Cruise Automation, a San Francisco-based self-driving vehicle start-up which the former acquired in 2016.
GM claims Cruise AV is the first production-ready vehicle built from the start to operate safely on its own, with no driver, steering wheel, pedals or manual controls. The company on Friday filed a safety petition with the US Department of Transportation for its fourth-generation self-driving Cruise AV. It is planning to launch a fleet of these fully autonomous vehicles on roads in 2019.
The company has released an image of the interior of its forthcoming car. The dashboard looks identical to the Bolt EV sans steering wheel and pedal. The teaser video also shows displays in the back of the headrests to provide information to rear-seat passengers. The Cruise AV can comfortably seat four passengers. The array of radar, cameras and laser sensors that are clustered on the roof the car enable it to navigate city streets and recognize vehicles, pedestrians, intersections and other obstacles.
Self-driving technology "is only going to have a big impact if we can deploy it at large scale," GM's chief financial officer, Dan Ammann, said in an interview with New York Times. "We intend to launch a commercial ride-share service at commercial scale in 2019. That will begin in one city and scale up in that city and move to other cities after that," he added.
If the safety petition gets approved, the Cruise AVs are expected to hit the San Francisco streets first where Cruise Automation is conducting tests. The mass production of the self-driving car is expected to take place at a factory in Orion Township, Michigan.
GM is not only the American carmaker working on the self-driving car sector. Ford is also developing a car with no steering wheel or pedals. However, the autonomous car from blue oval-logoed car maker will go into mass production by only 2021.