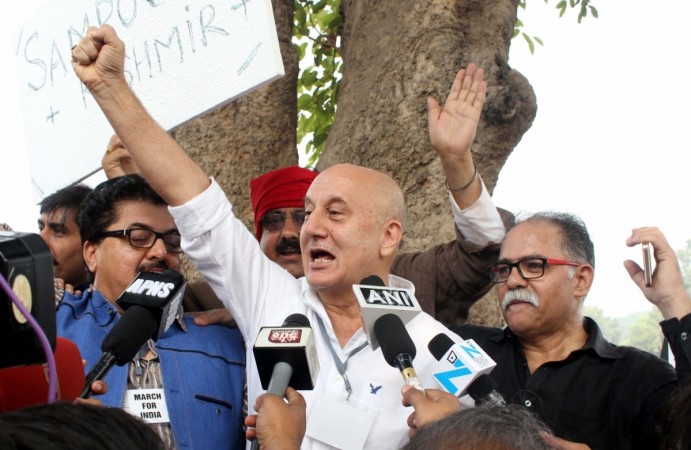 Professor Ira Bhaskar, the dean of the cinema studies department in Jawaharlal Nehru University (JNU) and former member of Central Board of Film Certification (CBFC), said Saturday that there were no slots in the current semester to screen award-winning actor Anupam Kher's film "Buddha in a Traffic Jam." The actor had alleged Friday that he was refused permission due to the current situation at the university.
The university was recently in the headlines after the government jailed three students on sedition charges, branding them as "anti-nationals," after an event commemorating Parliament attacker Afzal Guru's death anniversary was held on the campus. Eight students, who were suspended following the event, have now been reinstated.
"Question of not allowing the film doesn't arise as there is no slot this semester. I had said we can consider it in the next semester. I don't know why Mr. Kher is saying all this," Professor Bhaskar, mother of actress Swara Bhaskar, told ANI.
The university is "stifling freedom of speech and expression," the Press Trust of India quoted Kher as saying.
"Why are only certain people allowed to exercise their freedom of expression at JNU? They should practice what they are preaching. If they're talking about freedom of speech and expression, then they should follow it also," he added.
A senior university official told PTI that the university did not receive an application from Kher.
"We have not received any verbal or written request from Anupam Kher for screening of the film so there is no question of we having denied it," the official said. "I am not sure if he had sent any request to any specific school but nothing has come to the administration".
Earlier this year, the actor had alleged that Pakistan denied him a visa for the Karachi Literature Festival as he was vocal about the rights of the Kashmiri Pandits. Pakistan High Commissioner Abdul Basit had responded saying the actor had not applied for the visa, the Indian Express reported.