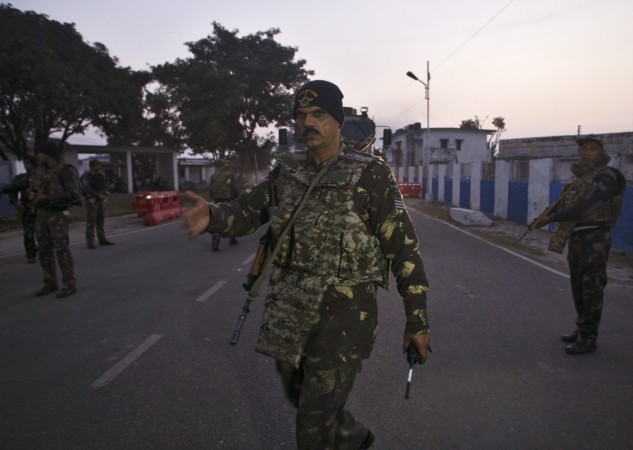 Questions around the purported killing of three of the 10 terrorists who had reportedly infiltrated India rose in number, as it emerged Thursday that nine ATM thieves had sparked a false alarm in Gujarat. A Hindustan Times report quoted intelligence officials as saying the 10 militants had been not been traced, let alone anyone being "neutralised".
A Union home ministry official had been quoted by the Indian Express as saying Wednesday three of the 10 militants, about whom National Security Advisor (NSA) Ajit Doval had been tipped off March 5 by his Pakistani counterpart Naseer Janjua, had been killed in a "western state" and an attack on Gujarat's Somnath temple had been foiled.
The tip-off also come days before External Affairs Minister Sushma Swaraj met Sartaj Aziz, adviser to Pakistan's prime minister on foreign affairs, in Nepal on the sidelines of a SAARC meet.
Intelligence agencies and Gujarat Police officials have now apparently dismissed the claim, reports HT. The report said it was nine men — who turned out to be a gang of ATM thieves — who had come under suspicion based on articles left behind at two guest houses in Gujarat, which they had vacated without paying for their stay.
The Bhuj police entered the rooms and found items such as an acetylene gas cylinder and a gas cutter, leading to speculation regarding the identity of the boarders. The men were ruled out as Pakistani militants after the Jharkhand Police confirmed their identity, and it came to light that the Arnala police of Maharashtra's Palghar district had arrested them in September 2015 in connection with ATM theft.
"A team of Kutch police visited Pakur district and investigations have so far revealed that they were ATM thieves. Their modus operandi was to hijack the entire ATM machine and then use a gas cutter to recover money," Gujarat border range Inspector General AK Jadeja told HT Wednesday.
"We are doing investigation if they were involved in any of the ATM thefts reported in the state," the HT quoted the police as saying.