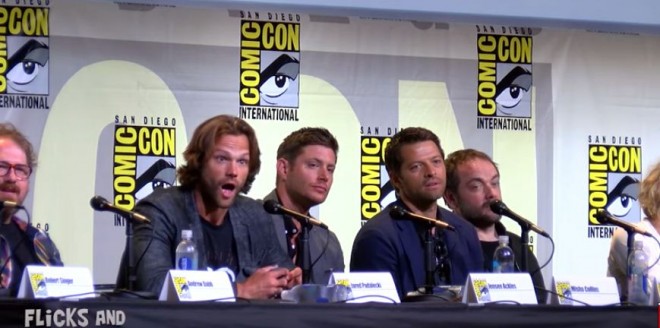 The San Diego Comic Con is a magical place where millions of people that love similar things come together to celebrate everything sci-fi. Other than getting to watch brand new trailers of their favourite shows, meeting their favourite stars and buying amazing merchandise, the Comic-Con 2016 also saw two fans get engaged at their favourite panel, and one of the actors seemed more excited than the couple themselves.
At the "Supernatural" panel, Colin from Texas, also known as Fat Castiel, the Angel of Doritos, wanted to ask a very special question to his girlfriend with the permission of those on stage. Before anyone caught wind of what was about to happen, Jared Padalecki, ever the romantic, got wide-eyed with excitement.
So here is how it all went off:
Colin, an apparent superfan of "Supernatural," introduced himself when hosts Rob Benedict and Richard Speight Jr. opened the floor for questions.
"In honour of Season 12, I actually had a very special question for my girlfriend," declared Colin.
At this point Jared got excited and screamed "YES!"

All the fans gathered in Hall H waited excitedly as Colin's girlfriend walked over. He elaborated that the couple has been following the show since its beginning and wanted all of the cast, creators and "friends and family at Comic Con" to be a part of their special moment.
Also Read: All new trailers for CW/DC shows "The Flash," "LoT" and "Arrow"
"I've loved you since the very first moment that I saw you. You're the sun that brightens my day and you're the moon of my life. I can't think of anybody else I would want by my side slaying zombies and killing vampires and killing demons and whatever else is out there... What I'm trying to ask you, Ashley Elizabeth Rose, will you marry me?," asked Colin in what is probably one of the nerdiest proposals of all time.

Ashley obviously said yes, as the fans and "Supernatural" crew cheered them on.
The duo then sealed the deal with a passionate kiss.

Colin did have a backup question in case he was prevented from making the marriage proposal and it is something all "Superhero" fans have wondered for several seasons. Who has the deepest voice -- Cas (Misha Collins) or Dean (Jensen Ackles)?
We'll let you find the surprising answer to that in the video below:

"Supernatural" Season 12 will premiere on the CW starting Wednesday, Oct. 13.