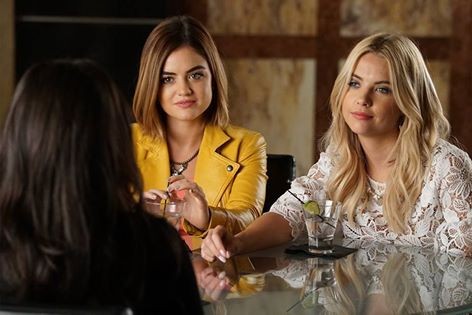 The previous episode of "Pretty Little Liars" ended on a cliffhanger, with Ezra finally popping the question to Aria. But because there is no new episode of the teen drama this week, viewers will have to wait until August 2 to find out if Aria actually ends up getting engaged to Ian Harding's character.
Shortly after the Season 7 episode 5 was aired, executive producer Marlene King took to Twitter to apologise to her fans for making them wait for two weeks to find out if Aria accepts Ezra's proposal. "Sorry for the two week wait. But we'll get through it together. #PLLProposal #PLLFamily," she tweeted.
Based on the summary for next week's episode titled "Wanted: Dead or Alive," it seems doubtful if Aria and Ezra would get engaged. But King has been promoting this season as the most romantic one yet and she has also revealed that there will be a wedding. Only time will tell if it is indeed Aria and Ezra's wedding, as King revealed in an interview with ET that there are a few reasons why Aria might decide against accepting Ezra's proposal.
"There are some reasons why she doesn't feel like she's been completely honest with him, like the death of Elliot Rollins and that they buried that body, so her hesitation is really about that. Like, 'How can I say yes if I haven't told him the truth about everything?' So that's sort of the thing she has to weigh out before she can answer him," said King.
The synopsis for the episode reads:
The Rosewood P.D. begins to unravel the Liars' cover-up, which leads them to question Rollins' death altogether. Hanna deals with an inward battle on whether or not to tell the cops the truth, while Ezria struggles with an awkwardness in their relationship. Jenna reveals part of her plot and a new partner she is in cahoots with. Ali learns that the Liars gave her up as Charlotte's killer in order to free Hanna, which does not go over well. Meanwhile, someone is murdered for playing with the wrong team.
"Pretty Little Liars" is aired on Tuesdays on Freeform.