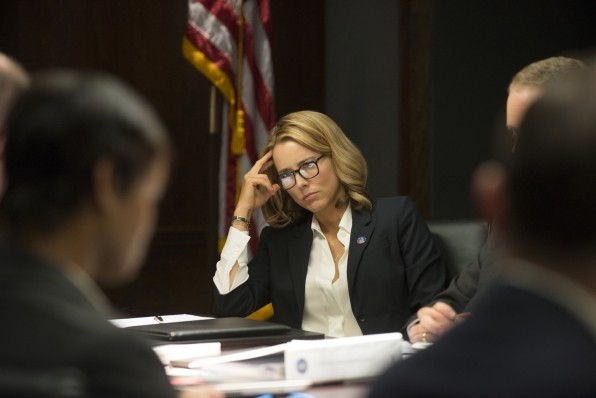 The latest episode of CBS' political thriller "Madam Secretary" will not be aired on Sunday, 7 February and it appears that the network has pushed its release date by one week. To be sure, Season 2 Episode 14 will air on 14 February in its regular time slot.
The upcoming episode of the TV series will focus on Elizabeth McCord's (Téa Leoni) diplomatic mission in Eastern Europe. The Secretary of State will learn of a uranium heist and will spend most of the episode trying to track down the culprits. The theft will pose an existential threat to other nations and McCord will be apprehensive about the possibility of a nuclear attack.
Although the synopsis does not mention where exactly the theft will occur, we predict that Ukraine will be central to the plot. After all, the country does have uranium deposits.
As if this political crisis is not overwhelming already, she will also have to deal with the Saudis, after two American teens join a terrorist organisation. The indoctrinated teenagers' presence in the Middle East will threaten an arms deal with US' most important ally in the Gulf. McCord will have to ensure that the teenagers return to their worried parents and salvage the unfolding political turmoil.
"Madam Secretary" will depict the nuances of diplomacy and strategic affairs after airing its most emotional episode last week. This return to normalcy will be invigorating for fans who binge watch the show to see a fictionalised version of present day politics.
Season 2 Episode 14's synopsis released via TV Guide reads:
"Elizabeth oversees a mission to track down the culprits behind a uranium heist in Eastern Europe, while at the same time trying to prevent the dismantling of an important arms deal in Saudi Arabia, which is threatened by the apprehension of two American teenage girls who intended to join a terrorist group."
"Madam Secretary" Season 2 Episode 14 titled "Left of the Boom" airs on Sunday, 14 February, at 8pm on CBS. You can live stream the episode via CBS All Access.
Related
'House of Cards' Season 4 trailer: President Frank Underwood kills 'Suicide Squad' star Joel Kinnaman? [Spoilers]
Game of Thrones Season 6 teaser trailer: Lannisters and Tyrells go on war; another walk of shame confirmed? [Spoilers]
'Game of Thrones' season 6 teaser trailer explained: Ramsay's pink letter confirms Jon Snow's return?