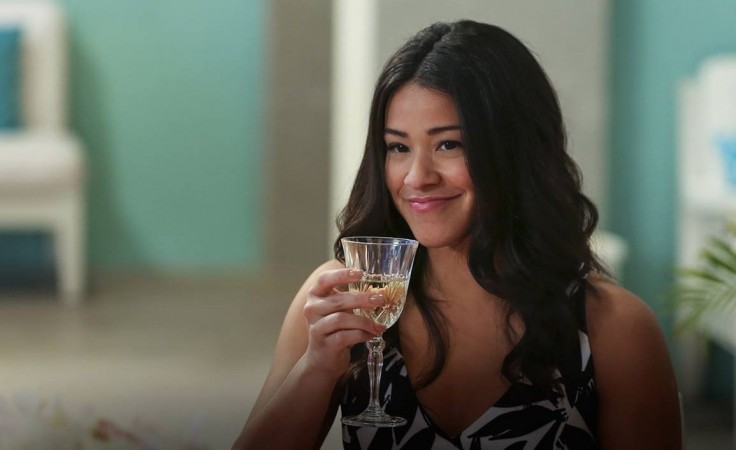 "Jane The Virgin" Season 2 will be on a week's break before airing its next episode. The CW last aired episode 16, "Chapter Thirty-Eight" on March 28, and will not air any new episode, as per schedule this Monday, April 4. The fans can now expect to watch episode 17, "Chapter Thirty-Nine" only on April 11.
Last time of episode 16, we saw how a flood hit Jane's home ruining her wedding plans, and the big clash she had with her father over the ceremony. Meanwhile, Jane and Michael also looked for a home to start their family, but the house hunt didn't go as smooth as they imagined. Rafael, on the other hand, objected to Jane moving away with Mateo and so he convinced her to move closer to where he lives, much to Michael's annoyance. Meanwhile, "Chapter Thirty-Eight" also focused on Petra's trouble of coping with postpartum depression.
Now, though The CW has not released any promo for episode 17, the synopsis for "Chapter Thirty-Nine" teases that Jane and Michael's bachelorette and bachelor parties will go awry. According to the synopsis Jane will have certain plans in her head about how she wants her to mark the last night of her single life, but it all goes out of the window when her mother Xo and Lina get involved. And on the other hand, Michael's bachelor party will be ruined by Jane's father Rogelio, who merges his own plans with Michael's party plans.
Meanwhile, it is also teased that Rafael will question his half-brother Derek's true intentions.
Plot synopsis for episode 17, "Chapter Thirty-Nine" (via TV.com) reads: "Jane's bachelorette party doesn't go as she envisioned thanks to input from Xo and Lina. Meanwhile, Rogelio's plans for Michael's bachelor party disrupt Michael's evening with his friends; and Rafael attempts to unearth Derek's true motives.
"Jane the Virgin" Season 2 will return with episode 17, "Chapter Thirty-Nine" on April 11, 2016. For more information on the upcoming episode and live streaming details, don't forget to check back here.