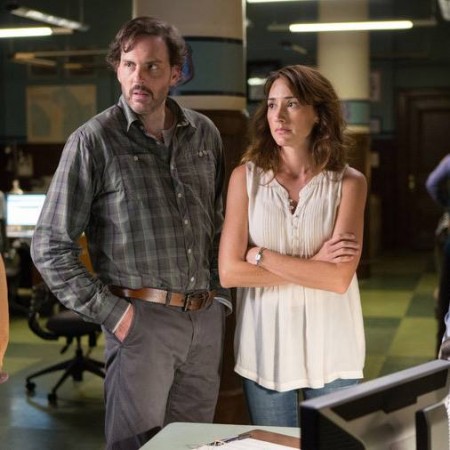 It seems that Nick Burkhardt (David Giuntoli) will face an awkward situation as he will get entwined in an odd love triangle in "Grimm" season 5's upcoming episode titled "Eve of Destruction".
In the midseason finale titled "Wesen Nacht", a new character named Eve was introduced in the series. She is a doppelganger of Juliette Silverton. Bitsie Tulloch, who plays Juliette, portrayed the character of Eve.
This new character left the viewers wondering whether she will affect the relationship between Nick and Adalind Schade (Claire Coffee) -- former enemies who are in love now.
James Kouf and David Greenwalt, in an interview with TV Line, said that the lives of these three characters will get more complicated in the forthcoming season.
"The Nick-Adalind relationship is going to have a life of its own without the Juliette/Eve aspect, because they have a kid," Greenwalt revealed.
"But there's a lot of other complicated things that are going on that will determine how that relationship works out," Kouf further added.
The latest promo images of the episode hints at a possible intimate moment between Nick and Adalind where Nick might kiss her. It seems that they both are finally getting comfortable with each other.
The trailer of the upcoming episode also hinted at a possible threat to humanity that might have been caused by an error within Wesen world, and it seems that only Nick can put a stop to it.
As shown in the trailer, Nick goes to Black Forest in Germany with Monroe (Silas Weir Mitchell). He has a key that unlocks the mysterious creature who can stop the uprising among the Wesens.
Whether he will be able to stop the Wesens through this new medium or not, it will be seen only in the next episode.
"Grimm" season 5 episode 7, which was scheduled to be aired on Friday on NBC, will be broadcasted on 29 January now.