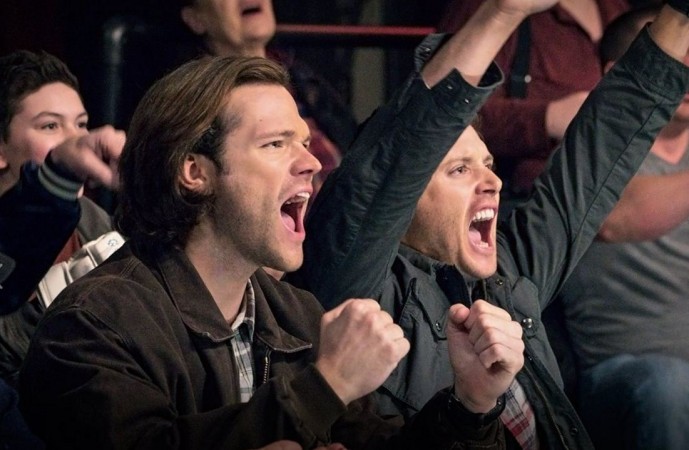 "Supernatural" Season 11 has been all about the Darkness (Emily Swallow), and everyone, from angels to demons, trying to defeat her. However, the show is taking a break from all that and the Winchesters' weekly monster hunt for a couple of weeks.
The upcoming Season 11 Episode 16, titled "Safe House", will air Wednesday, March 23. With the season peppered with filler episodes, it looks like "Safe House" will take The CW show back on track, with progress in the Amara-Lucifer-Winchesters storyline.
The promo for "Safe House" looks scarier than most "Supernatural" episodes, with Dean's (Jensen Ackles) voice-over saying: "The Darkness is out there, and the world is going to burn. And once she gets started, that's the end".
As fans know, Dean and Amara have a connection, which is probably why he is able to make these predictions. Dean has also had the opportunity to kill the Darkness twice, but he has never been able to, and probably might never either, which is why he has tasked his younger brother Sam (Jared Padalecki) with killing her.
Also Read: Rare, funny photos of 'Supernatural' cast with family
After repeated failures with Amara, and shocked by the fact that their friend Castiel (Misha Collins) gave his body over to Lucifer (Mark Pellegrino), the Winchester brothers had been focusing on other cases. However, it looks like their attention will be drawn back to the impending Darkness soon.
The fight should also get a little better now, considering Crowley (Mark Sheppard) has escaped from Lucifer's clutches. In all probability, he will join hands with the Winchesters, because he, too, wants Amara and Lucifer out of the picture.
Don't forget to check back here for more spoilers and speculations regarding "Supernatural" Season 11 Episode 16, titled "Safe House", ahead of its March 23 airing.