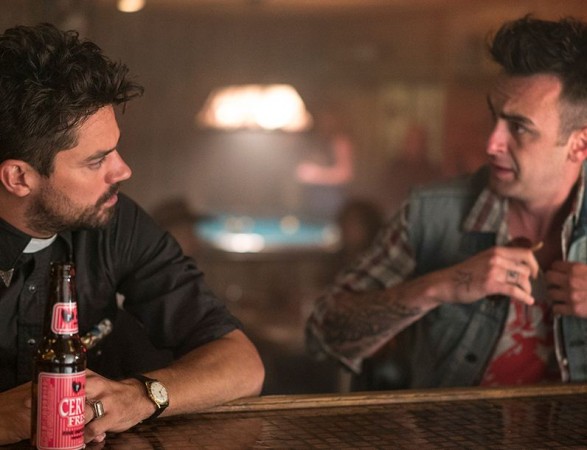 "Preacher," the AMC show developed based on the comic book series of the same name, premiered on Sunday, May 22. The pilot episode received amazing reviews from both critics and audience alike, but unfortunately the show has gone on a break right after the premiere.
The wait, however, will be short, as the upcoming episode 2, titled "See," will be aired next Sunday, June 5. In it, we will see more of Jeese's (Dominic Cooper) spiritual journey peppered with comedic and action scenes, thanks to his vampire best friend Cassidy (Joseph Gilgun) and gun-wielding ex Tulip (Ruth Negga).
In the "Pilot" fans saw Jesse, a preacher from Texas with a violent past, starting to question his faith and considering leaving the Church. However, when an entity from space inhabits him, he changes his decision, announcing to his flock that he is not done yet.
Also Read: Madison Iseman talks 'Still The King' and TV dad Billy Ray Cyrus in exclusive interview
This entity had initially inhabited a preacher in Africa, who exploded immediately. This incident was repeated in Russia and other places, but the entity seems to have found a safe home within Jesse. The Texas preacher, on the other hand, seems to have garnered some power after hosting the supernatural entity.
In the "Pilot," fans saw a man rip his heart out and present it to his mother because Jesse said figuratively he needs to open his heart to his mother. It is clear that these powers are not yet apparent to Jesse, but he will hopefully learn them and how to harness them in the near future.
Here is the synopsis for episode 2 of "Preacher:"
A mysterious duo is after Jesse while he tries to be a "good preacher"; the enigmatic Cowboy makes an introduction.