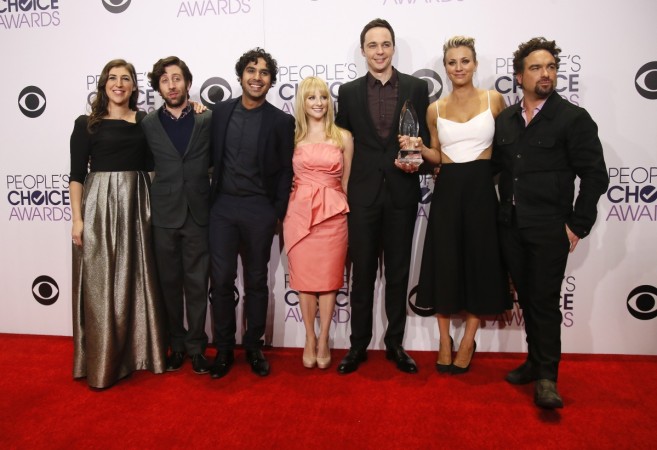 CBS' "The Big Bang Theory" is on a hiatus and there will not be a new episode of the comedy series this Thursday, March 17. Kaley Cuoco and the rest of the cast will return for Season 9 episode 19 March 31.
The episode is titled "The Solder Excursion Diversion" and it will see Leonard and Wolowitz lying to Penny and Bernadette about going to watch a movie, and Amy buying a new laptop for Sheldon.
Warning: This article contains spoilers on the March 31 episode.
According to a leaked description of the episode available on Wikia, Amy will learn a secret about her boyfriend in the upcoming episode. When she suggests that Sheldon throw away his old laptop, Sheldon confesses that he is a compulsive hoarder and he even takes her to the storage unit where he keeps his old stuff.
In other "The Big Bang Theory" news, the cast of the show revealed at the PaleyFest panel Wednesday that Leonard's father is set to make an appearance in one of the upcoming episodes. The role will be played by Oscar-winning actor Judd Hirsch. Although Leonard's father has been briefly mentioned in the past, he has never made an appearance in all these years the show has been on air.
As it turns out, it was actor Jonny Galecki who first approached Hirsch with the role. "I met this fellow a month or two ago and he's a hero of mine and I knew that he was a hero of Chuck and Bill's, so I just accosted him and cornered him and practically made him commit on the spot to play my father," Galecki said, according to Entertainment Weekly. The actor added that he drew inspiration from Hirsch's Alex Reiger [Taxi] to play Leonard.
Leonard's father will be introduced before Season 9 winds up May 12. Talking about Leonard's father, executive producer Chuck Lorre told EW ahead of the panel that Leonard's parents are polar opposites.
"When you look at Leonard and his mother, and how different Leonard is, well the other piece of the equation is his dad, so you can imagine the space that character has to occupy and who he'd have to be to get a Leonard out of the equation," he said.
"The Big Bang Theory" airs Thursdays at 8 p.m. EDT on CBS.