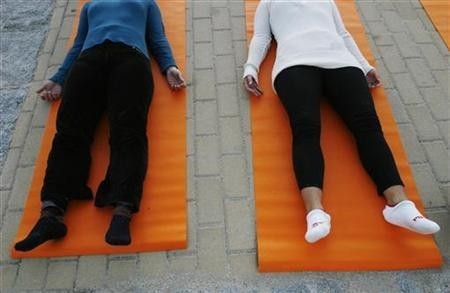 Bioengineers at University of California, Davis (UCD) have come up with an interesting fabric, one that mimics skin and transforms sweat into droplets that drain away.
The new waterproof fabric will be a blessing for workout addicts, athletes and fabric manufactures especially top sports brands which are interested in manufacturing clothes that drain away sweat, letting the skin breathe and at the same time don't stick to one's body uncomfortably.
The nearest clothing that has such properties is one made of cotton, which absorbs sweat but could not hold excess of if as the fabric turns soggy and sticky.
According to a news release from the university, graduate students Siyuan Xing and Jia Jiang created the fabric micro-fluidic platform with the help of hydrophilic fibres fixed to an extremely water-repellent cloth. By this, they were able to create pattern of fibres that absorb droplets of water from one side of the fabric, actuate them to go to the other side and dispel them from there.
"We intentionally did not use any fancy micro-fabrication techniques so it is compatible with the textile manufacturing process and very easy to scale up," said Xing, one of the lead researchers of the project.
The water repellency does not work just through capillary action, which is the ability of liquid to flow through narrow spaces without external force, but also works with the help of water-repellent characteristics of the adjoining fabric which helps to expel water along channels.
The new fabric works unlike other conventional fabrics, as its water-ejecting property does not lessen due to its supporting pressure gradient caused by the external tension among the droplets, even when its water-conducting threads are entirely soaked.
According to the researchers, the remaining part of the fabric will stay wholly waterless and breathable. The part of the fabric, where the sweat drops need to be collected and through where it needs to get expelled, could be determined and adjusted by rearranging the pattern of the water-conducting threads.
The findings of the study that was partly funded by the National Science Foundation have been published in the journal Lab on a Chip.