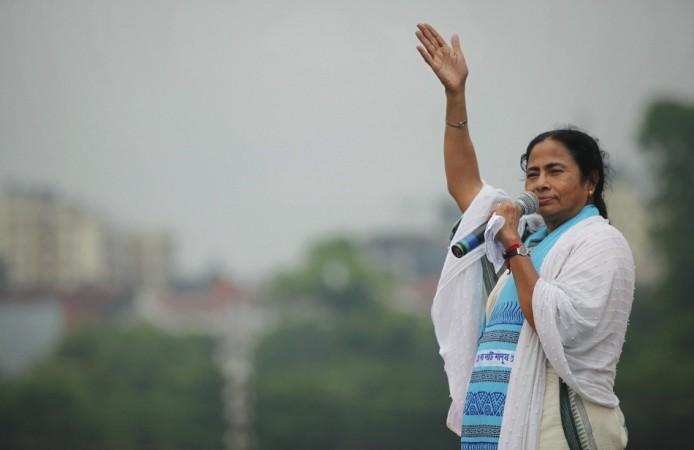 A fresh controversy has been erupted over a cartoon on West Bengal Chief Minister Mamata Banerjee on Saturday. Dr Bikram Saha, associate professor of medicine, approached the police station to file a complaint against the two persons, who have allegedly prepared and circulated a cartoon that is causing insult to Mamata.
Saha had lodged a complaint at Kotwali police station against Proloy Mitra and Chinmay Roy accusing them of creating a cartoon intending to hurt the reputation of the West Bengal Chief Minister.
Further he had mentioned in his written complaint that duo forwarded a cartoon in which, Mamata Banerjee's head was missing and carried a comment saying, "Our CM has lost her head."
Earlier, this month a Jadavpur University professor in Kolkata was sent to jail for allegedly circulating an offensive cartoon mocking Mamata and another Trinamool Congress Minister Mukul Roy. Ambikesh Mahapatra, the arrested professor, was let out on bail after spending a night in jail.
Mahapatra was slapped with charges of eve-teasing (Section 509 of the IPC), defamation (Section 500 of the IPC, humiliating a woman (Section 114 of the IPC and Section 66 A (b) were also slapped.
The controversial cartoon showed Mamata and Roy discussing how to get rid of former Railway Minister Dinesh Trivedi. The arrest of the professor for designing the cartoon kicked off a public outcry, which received a lot of flak for Mamata Banerjee.
Commenting on this, Trivedi on Sunday said, "Cartoons are a part of democracy. They can't destroy an image. Instead, they should be taken in good humour."
Earlier, TMC MP and singer-composer Kabir Suman said Banerjee's cartoon was too 'innocent' to agitate a person.
"I have seen the cartoon. It is a very innocent thing. It is strange that the picture has agitated a person," Kabir Suman told reporters in Kolkata.
Meanwhile, the West Bengal Police said they will scrutinise social networking sites, especially Facebook, for anti-Mamata contents.
According to the police, they are already probing a defamation complaint for 'maligning' Banerjee's image against Facebook and other social sites.
"We are tracking Internet Protocol (IP) addresses from where such posts are being made," said a senior police official on Saturday.
(With inputs from IBNS)