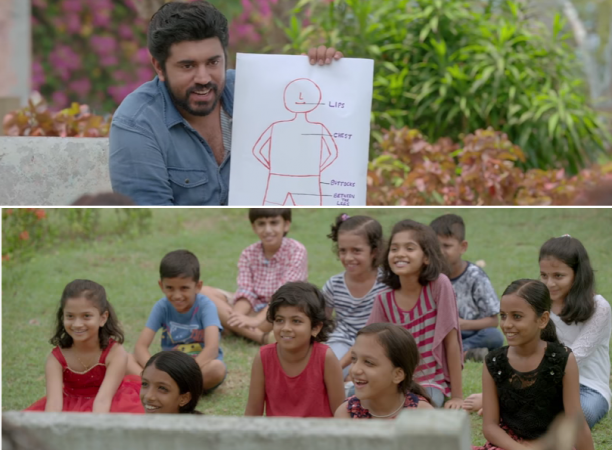 Malayalam director Jude Anthany Joseph was recently in the news for allegedly insulting Kochi Mayor Soumini Jain in connection with the shooting of a short film at Subhash Park in Ernakulam. After sorting out the issues, Jude has shared the six-minute 50-second awareness video that tells children how to protect themselves from abuse.
The video, featuring young star Nivin Pauly, looks different and realistic as compared to many other such videos we have seen so far. The actor appears as himself in it, and is seen instructing a few kids on good touch and bad touch, and how they should react if someone tries to physically assault them.
The informative video with English subtitles can work as a useful guide for children, as we live in a society where stories about young ones, even babies, getting physically assaulted by strangers as well as family members and teachers, are not uncommon. In the short film, Nivin says that when someone touches the private parts of their body, they must be loud enough to say NO, and GO away and TELL one of their trusted adults, be it their parents, grandparents or teachers. No Go Tell also instructs kids not to accept anything from strangers, or watch any bad videos or photos if someone forces them to do so.
The short film opened to a positive response from the audience, and many celebrities have also appreciated Nivin and Jude for their initiative. Jude has also thanked Nivin, cinematographer Mukesh Muraleedharan, music composer Shaan Rahman and editor Rias for participating in the project without any remuneration.
Indrajith Sukumaran
NO GO TELL.. Wonderful initiative! Jude Anthany Joseph #NivinPauly #Bodhini
Lijo Jose Pellissery
Congrats Jude & Nivin
Great initiative
Aju Varghese
Good one brother
Sachin Warrier
Salutes to you Jude etta. So much sincerity. There's nobody like you :) Hope this reaches millions of people!
Siju Wilson
No Go Tell. Make Our Children Stronger n Protective
Abhiram Suresh Unnithan
a video that every parent should watch n show to their kids.. great initiative Jude Anthany Joseph .. ashamed of u dear mayor for making such a fuzz on allowing shooting such a socially relevant project.. #peace
Watch the short film here: