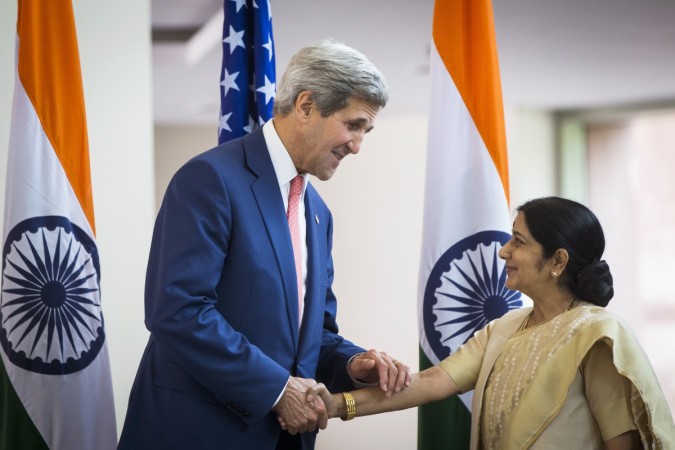 The United States has dismissed reports that it issued a certificate for Pakistan's progress against terror groups and clarified that it has not cleared a fund of $532 million to the country, a report which irked India.
Pakistan's finance ministry had reportedly stated that the US ambassador to the country had announced that the US Secretary of State John Kerry had notified Congress of the $532 million aid under the Kerry-Lugar-Berman bill.
Funds under the bill can be disbursed only after a certification citing necessary action has been taken against terrorism.
"No certification has been sought for funds to Pakistan, and no funds disbursed since 2013," State Department spokesperson Jen Psaki said.
In 2013, the US had disbursed aid to Pakistan on a "national interest waiver" and had not issued a certificate, she said according to Press Trust of India.
"The facts are, Congress has not been notified of a request. Congress has not approved a request. I think in some of the reporting it also suggested this implied an approval of progress made (by Pakistan in war against terrorism)," Psaki explained.
"In the past, while I'm not going to get ahead of any requests we'll make, and obviously there will be additional funding, I'm sure. But in the past, the Department of State has employed the national interest waiver provided for in legislation in part because all the criteria that is required to be met hasn't been met. We obviously have that ability in the future as well."
India had reacted sharply to the reports, citing that Pakistan had not made any "significant effort" or shown "sustained commitment" to act against terror groups such as the Laskhar-e-Taiba, Jaish-e-Mohammad, and the Haqqani network.
"How the Government of the United States of America decides to spend U.S.taxpayers' money is entirely its prerogative," Ministry of External Affairs spokesperson Syed Akbaruddin said in a statement. "However, India does not believe that Pakistan is showing sustained commitment or making significant effort or ceasing support or dismantling bases of operations of the Laskhar-e-Taiba, Jaish-e-Mohammad, the Haqqani network and quite possibly the al-Qaeda."
The news particularly angered India since it came at a time when India foiled what it claims was a terror attack by Pakistani militants.